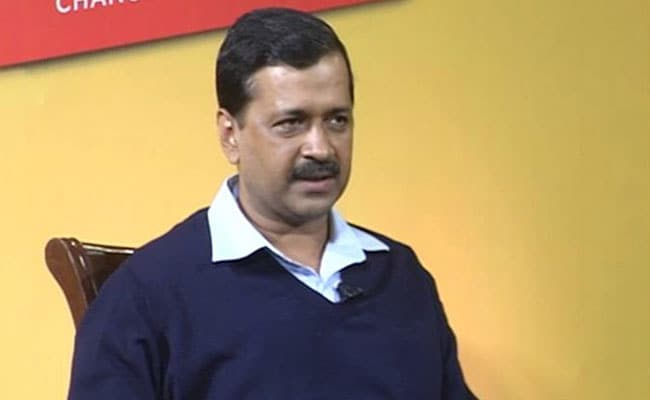 New Delhi:
The AAP government on Thursday launched a fresh attack on Lt Governor Anil Baijal after he held a meeting on the status of CCTV camera installation in Delhi, dubbing his actions "illegal" and said he should follow the Constitution and not be a "dictator".
"LG shud respect and follow the constitution (sic)," Chief Minister Arvind Kejriwal tweeted while his deputy Manish Sisodia said the Lieutenant Governor should not attempt to run a parallel government as he does not have any power to call a meeting on issues which are under the government's domain.
Their reaction came hours after the Lt Governor held a meeting on law and order where the current status of CCTV cameras installation, a pre-poll promise of AAP, was taken up. In a tweet, Mr Baijal said he had directed authorities concerned to have an inter-agency group to formulate Standing Operating Procedure (SOP) for uniformity in installation.
"Chaired law & order meeting on current status of CCTV cameras in Delhi, including their O&M issues. Directed to have an inter-agency group to formulate a SOP to have uniformity in installation & address issues of privacy, security, feed-sharing, integration & optimum utilisation (sic)," the Lt Governor said on Twitter.
The meeting was attended by Chief Secretary Anshu Prakash, Police Commissioner Amulya Patnaik and senior officers.
But the Lt Governor's move did not go down well with the Kejriwal government.
"LG sir, pl don't be a dictator. This is attempt to run parallel govt in Delhi. Its illegal. U don't hv power to call meeting on issues under elected govt's domain," Mr Sisodia tweeted.
"Under Constitution! u can ONLY express difference of opinion on decision of elected govt. Pl respect the Const (sic)," he said.
The opposition BJP criticised Mr Sisodia, saying his reaction on the Lt Governor taking lead in the installation of CCTV cameras is a reflection of the AAP leader's "political desperation".
"The CCTV issue is not only related to public sentiment, but was also a prime point of AAP's political agenda, but once in power Kejriwal has constantly evaded working on it. Manish Sisodia's reaction on Lt Governor taking lead in the matter is a reflection of his political desperation," Delhi BJP chief Manoj Tiwari said in a statement.
Giving details about Thursday's meeting, the Lt Governor's office issued a statement, saying that Delhi Police made a detailed presentation on the installation of CCTV cameras.
"The Lt Governor was informed about the identified places for installation of CCTVs cameras especially in view of directions of Hon'ble High Court. At present 4,067 CCTVs are installed at 87 different sites by Delhi Police, while proposal for installation of 1,380 cameras is under active consideration by MHA," it stated.
It also stated the Lt Governor stressed upon effective operation and maintenance of CCTV cameras, and deterrent penalty in case of any laxity on this count.
The Lt Governor and the AAP dispensation have had almost daily run-ins with the latter accusing him of encroaching on its powers.
In February this year, Mr Kejriwal had expressed hope that the Supreme Court, which is seized of the matter regarding administrative control over Delhi, will deliver the judgement in his government's favour.