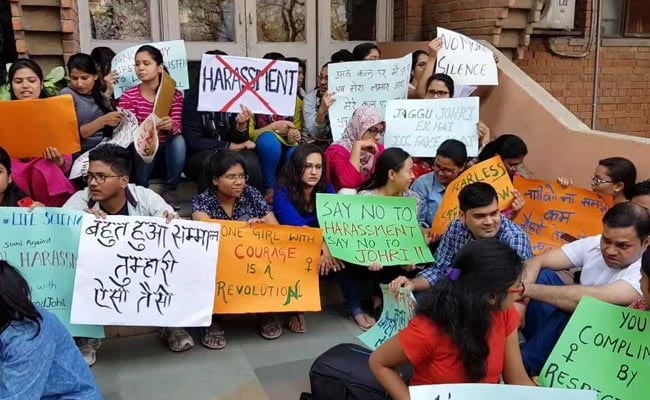 New Delhi:
A professor of Jawaharlal Nehru University (JNU) who was arrested on charges of sexual harassment has got bail from a Delhi court. Earlier in the day, Professor Atul Johri of JNU's School of Life Sciences was arrested after he was questioned in connection with eight First Information Reports (FIRs) of molestation filed against him.
In court, the professor's lawyer claimed that his client was being framed as part of a political conspiracy. As the police said they don't need Mr Johri's custodial remand, his lawyer moved a bail application, saying his client's career would be spoilt if he was sent to jail.
The bail plea was opposed by the police who said the complainants feared intimidation by the accused. After hearing both the sides, the court granted bail, saying the accused should not hamper the investigation in any way or intimidate the accused. Besides, the accused was told to furnish a surety of Rs 30,000 for each of the eight cases filed against him.
The complainants have recorded their statements before a magistrate under Section 164 of the Code of Criminal Procedure. These statements will be admissible in court as evidence.
The arrest comes a day after JNU students marched to the local police station to press for Mr Johri's immediate arrest.
A student delegation that met authorities at the Vasant Kunj police station on Monday was assured of action.
While the JNU teachers association has called for a fair probe, at least 55 professors of the university had earlier written to the Delhi Police demanding that they prevent the accused professor from contacting and intimidating students.
Chief of the Delhi Commission for Women (DCW) Swati Jail Hind has backed the protest by students.
The present complaints appear to indicate a pattern of sexual assault, the commission said in a notice to the JNU administration on Monday, seeking to know what safeguards have been taken to ensure the safety and security of the complainants. It also sought to know if there had been similar complaints against the professor before.