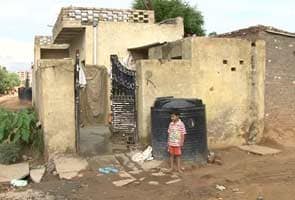 New Delhi:
Terminal 3 or T3 of the Indira Gandhi International airport is unarguably one of India's swankiest airports. But behind the glitz is the story of people who were displaced and now live in nice apartments but have no water supply, no functioning drainage system and no concrete roads too.
63 acres of land was acquired to build the terminal and the people who once lived on it were moved to what is considered posh South Delhi. But in Nangal Dewat village in Vasant Kunj area, even basic facilities like clean drinking water and sewage disposal is a luxury.
Their land was acquired by the Airport authority of India in 1972, which agreed to resettle over 900 families. The High Court had then stated that the authority must rehabilitate the entire village and make sure that the place they move to is in a habitable and functional condition. The residents finally moved to Nangal Dewat in 2007. But now it's 2012, and when NDTV went there, there are hardly any roads, drains have been laid out but the sewage system is not functional and sewage is out in the open.
Even for clean drinking water, residents often have to depend on tankers. Falling sick due to bad water is a norm here. "Tanker water is very dirty. As there is no clean drinking water, we have to depend on these tankers, or buy water from the market," says Santosh Sehrawat whose grandson has been suffering from Diarrhoea for a month now.
There are voices of discontent everywhere. The residents have been continuously told to raise their own funds to build the infrastructure whereas, the Airport authority that took over their original land says, they made a one-time payment of Rs 20 crores to the Delhi Development Authority (DDA) for development of the new area.
Officials at the DDA admit that much of the development work is left, but say off the record that the money given for development of Nangal Dewat has already been exhausted. None of the authorities are willing to clarify how and where the money was spent. In the meanwhile, the residents who gave up their land continue to fight their battles for basic amenities.