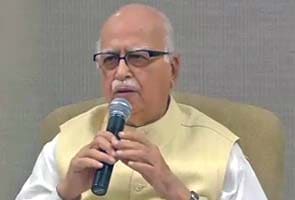 New Delhi:
The Delhi Police has come under severe criticism after a five-year-old girl was raped and brutalised, allegedly by her neighbour. The girl was kidnapped on Monday from outside her home in east Delhi and was found two days later, not by the police, but her neighbours. After the case sparked huge protests outside the hospital, where the girl was admitted, a senior police officer was caught on camera slapping a woman demonstrator. The little girl's family has alleged that cops offered them Rs 2000 to stay quiet after it reported their child was missing.
LK Advani, senior BJP leader:
In Delhi, the government sits idle as a heinous crime gets repeated sickeningly. Sushma Swaraj met the five-year-old girl today. We felt there will be some sort of restrictions after December (incident) but nothing has happened.
Sushma Swaraj, senior BJP leader and leader of the Opposition in the Lok Sabha:
Delhi child rape case has shown that perversity and sadism is common to these criminals. These perverts and sadists require shock treatment. We need to make the recent law more stringent. Home Minister should convene a meeting of representatives of all political parties to provide for death sentence in cases of rape of children and cases involving brutality and barbarity as in the present case.
Brinda Karat, Politburo member, CPM:
The Police have beaten those protesters and insulted them. So what is this happening? Is it a Police force or rowdy force or what is it? So it is not just about suspending. So a case must be ruled against them. This is a very shameful incident. It is a sad incident. And I don't know how many more sacrifices of girl children this Delhi Government wants. When will this city awaken? This is a question.
Smriti Irani, National Vice President, BJP:
The press bringing out such incidents to the knowledge of the nation has become an everyday affair. Rape and murder of a six-year-old girl in Aligarh and the brutal rape of this small girl, makes me feel that the nation as a whole should approach the Indian government. I will also approach it and demand the time has come that people who rape minor girls be given nothing less than a death penalty.
Krishna Tirath, Women and Child Development Minister:
With a small girl, such an incident happening is a very frightening matter. And I understand that for this the people need to think and deliberate about this and introspect because we are sensitising the Police. We are alerting them. The kind of incidents that occur in Delhi - police need to be attentive about it.
Manish Tewari, Information and Broadcating Minister:
The incident which has taken place in Delhi is extremely saddening and condemnable. The Prime Minister has reacted with a strongly-worded statement.
Kiran Walia, Women and Child Welfare Minister, Delhi:
I am not happy with the way Delhi Police has handled the case. They need to pull up their socks.
President Pranab Mukherjee:
I am shocked and deeply anguished at the latest incident of sexual assault and rape of a five-year-old child in Delhi. I join her family in praying for a speedy recovery and call upon concerned authorities to ensure the best possible medical attention for her.
Prime Minister's Office (in a statement):
The Prime Minister has been deeply disturbed to hear news of the shameful incident in which a 5 year-old child in Delhi was sexually abused and is now fighting for her life in hospital. The Prime Minister has also seen news visuals of the completely unacceptable treatment meted out by police officers to some women protesting against this incident. He has spoken to the Lieutenant Governor of Delhi in this regard and has conveyed to him the need for the strictest possible action to be taken against the erring officials, as also for appropriate medical care being provided to the young victim of the sexual assault. The Prime Minister has once again reiterated the need for society to look deep within and work to root out the evil of rape and other such crimes from our midst.