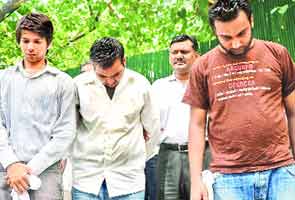 New Delhi:
The smaller fish are in the net, it's time to go after the big ones. Crime Branch of Delhi Police is planning to question some officials of SC/ST cell of Delhi University in connection with fake certificates scam that was unearthed last week.
The kingpin of the gang Himanshu Gupta has told the police that they used to deposit applications, getting the NOC (no objection certificate) with SC/ST cell of DU. "Some official from SC/ST cell must be helping them; otherwise they would not have been able to operate. Police will soon call the staff of SC/ST cell for questioning," said the police official.
The official added that this year around 31 students approached Himanshu Gupta for fake certificates. "12 students were given fake caste certificates. The accused had filled applications for eight students when they were held by crime branch while they were about to deposit NOC forms for 13 more students," he said.
The official said that they have checked two laptops belonging to Himanshu Gupta. "In 2009 they provided fake certificates to four students while in 2010 they 'helped' eight others. Police is conducting raids in Gurgaon to nab Satish, an aide of the accused," he added.
Police have identified all the students who have got fake certificates through this gang. Cops have written letters to respective principals in this regard to verify the status of these candidates and have sought a report. Police also examined the bank account of Himanshu Gupta.
On Saturday, Crime Branch of Delhi Police arrested three persons in this connection with the scam. Cops said that Himanshu Gupta (26), son of a Merchant Navy official is the kingpin of the gang while two others - Vikas (24) and Ketan Gupta (24) - were assisting him. They used to charge Rs 3 lakh to Rs 5 lakh for securing each admission. Police recovered 12 fake caste certificates, admission forms and two cars from their possession.