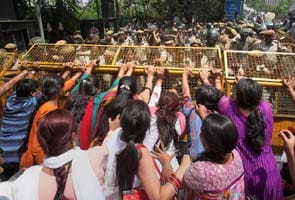 New Delhi:
A second man has been arrested from Bihar in the brutal rape of a five-year-old girl in New Delhi. Doctors at the capital's All India Institute of Medical Sciences (AIIMS) said the child's fever is down, antibiotics are working and that she is on a semi-solid diet. They also said she will probably have to stay in hospital for another two weeks.
The Delhi and Bihar police conducted a joint operation to arrest a man named Pradeep from Barhaya in Lakhisarai district, after Manoj Kumar - the man accused of kidnapping and holding the child hostage as he violated her - allegedly told the police that he had an accomplice. Manoj Kumar had reportedly also said this in a Bihar court soon after he was apprehended from his hometown Muzaffarpur on Saturday.
The Delhi Police will request a Lakhisarai court to allow them to bring Pradeep to the capital, where, sources said, the two men will be made to confront with each other.
If Pradeep's involvement in the heinous crime is confirmed, both men will be charged with gang-rape, the sources said.
The five-year-old was kidnapped on Monday last week while she was playing outside her home, and was then kept captive in the basement of the same building where she lived allegedly by Manoj, who rented a room there about a week ago.
She was reported missing the same day, but was found only two days later, not by the police, but neighbours who heard her cries.
The attack on the child was barbarous - she was violated with pieces of a candle and a bottle. She was taken to hospital in a critical condition, but is recovering well now doctors said.
There is growing anger on the streets of Delhi over the savage rape. There have been protests by citizen groups and members of Arvind Kejriwal's Aam Aadmi Party (AAP). Roads were blocked and traffic was disrupted at the busy ITO junction yesterday. Prohibitory orders have been imposed at India Gate.