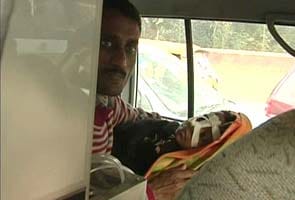 New Delhi:
If you were out on the roads in central Delhi today, especially in the New Delhi area, you perhaps would have earnestly hoped that Monday too was a holiday. For traffic was a nightmare with practically all roads leading to the India Gate circle blocked, resulting in long queues and endless delays - courtesy the violent protests there over the weekend over the gang-rape of a young medical student in the national capital. But even as vehicles honked impatiently, none perhaps understood the fallout of this delay more than Ashok Kumar, an ambulance driver at the Kalawati Sharan Children's Hospital in Connaught Place.
Kumar, accompanied by a young doctor Abhishek, was transporting a five-year-old critically-ill child boy, Aryan, for an MRI scan to a private clinic in south Delhi. It was essential for the ambulance to save time and cut through the maddening traffic. Kumar, thus, attempted to get past the barricade near Rail Bhavan close to Raisina Road, only to be told that the road was blocked. He swiftly maneuvered his ambulance and tried to zip past the traffic with the emergency siren on.
All this while, we were behind the ambulance, watching its occupants desperately figuring out a way to get past the traffic. We decided to follow Kumar. The ambulance was stuck at one end of the road while our car was in the middle of a bumper-to-bumper traffic at the other end. We got out of the car and ran towards the ambulance to try and find out as to what the situation was. We were a little unsure of catching up but still gave it a shot by running towards the ambulance.
"We are taking this child to Gulati's MRI clinic...the child is critical and is in the ICU," said an animated Kumar as I tried to catch my breath.
"Did you try and inform the police," I asked.
"We did but the police didn't listen, they just gave me an alternative route...I know the route, but time is of essence," Kumar told me with an angry look on his face.
As my colleague, cameraperson Sajji Lal, started focusing on the child and his uncle at the rear end of the vehicle, I asked the doctor how serious the patient was.
"He is Aryan and he is five years old...he needs an immediate MRI scan," said Dr. Abhishek.
"But doesn't your hospital have that", I asked.
"No, I don't think so," said the doctor but was quickly interrupted by Kumar who said, "No we have an MRI facility bot not to deal with all kinds of emergencies."
As I wished him luck and asked him to start the siren again to negotiate the heavy traffic, the cops at the intersection allowed the vehicles to move.
We wished Aryan a speedy recovery but couldn't help asking one question - why can't the Delhi Police understand that an emergency cannot wait?

(With inputs from Sajji Lal)