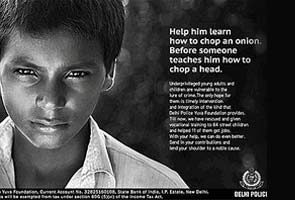 New Delhi:
The Delhi Police was on Thursday forced to recall its controversial ad campaign that encouraged readers "to prevent street children from chopping heads" by teaching them "how to chop onions."
The advertisement, published in the leading newspapers, drew sharp criticism from several quarters for unwittingly re-enforcing stereotypes about street children by branding them as potential future criminals.
Valay Singh Rai of Save The Children was one of those who voiced strong protest. "We have serious objections to the advertisement for being highly insensitive and stereotyping street kids as future criminals. It should instead be focused on sending them to school," he said.
But the chilling reality of the alleged insensitivity of the police towards children in conflict with the law is exposed not just by this well-intentioned-but-poorly conceived ad campaign, but also by some cold statistics.
Sample this. "In 2012, Delhi had the highest rate of crimes against children, up to 78.5 percent from 19.8 percent in 2010"
What further adds insult to injury is that the Delhi Police thinks it fit to "rescue" (sarcasm) street children from "chopping heads" and push them to "chop onions" - a pathetic euphemism and endorsement of child labour. Why would the Delhi Police not advocate them being sent to school is a question many are asking. But Delhi's top cops preferred not to answer that.
This isn't the first time the Delhi Police's ad campaign has boomeranged. A few months ago, the Delhi Police was forced to remove posters it put up outside prominent colleges after the December 16 gang rape of a medical student. The posters advised girls to take certain precautionary measures that bordered on being patriarchal and patronizing.