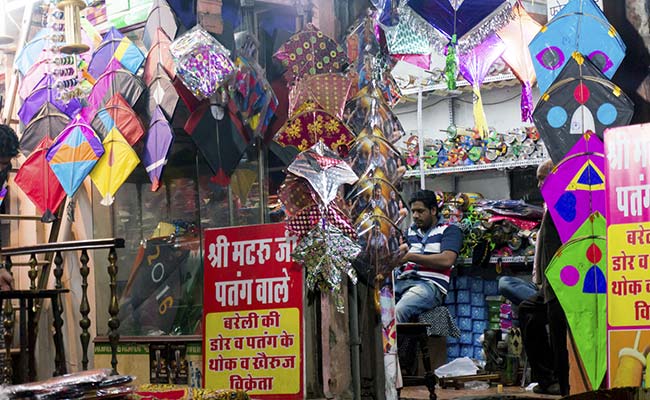 Highlights
Kite string slit throats of girl, 3, and boy, 4, on Independence Day
22-year-old man, riding motorcycle on flyover, was also killed
Delhi govt bans glass or metal-coated Chinese kite string or 'manjha'
New Delhi:
The Delhi government has banned the use of glass or metal coated kite strings after two children were killed on Independence Day in separate accidents barely 10 km apart.
Both 3-year-old Saanchi Goyal and Harry, 4, were travelling with their heads out of sunroofs in cars on Monday evening, when kite strings slit their throats. In West Delhi, a 22-year-old man Zafar Khan was killed when a kite string slashed his throat while he was riding a motorbike on a flyover.
A Delhi government notification said on Tuesday that the sale, production and storage of metal or glass-coated kite threads commonly called the Chinese manjha would be banned in the capital. Only the use of cotton thread and natural fibre free of metallic or glass components would be allowed for flying kites, said the notification, imposing a penalty of one lakh rupees and five years in prison for those who violate the ban.
Many people fly kites on their terraces and in gardens in the capital on August 15 to celebrate Independence Day and by evening there are lengths of manjha toughened with powdered glass hanging from trees, electricity poles and other places.
On Monday, it was one such hanging piece of thread that slit little Saanchi's neck as she was returning home after watching a film with her parents. She was rushed to a hospital in Rani Bagh, but died on the way.
Neighbours said Saanchi was the only child of her parents. Her father, Alok Goyal, is a businessman.
Two hours later, at about 8 pm, Harry was returning home with his parents and older sister and had his head stuck out of the car's sun roof, when a kite string got wrapped around his neck leaving him bleeding heavily. Harry too had died by the time he was taken to a hospital in Janakpuri.
Four people have died and three people, including a policeman, have been injured in kite string accidents in the capital since last week. On August 11, the Delhi High Court had asked the Delhi government and civic bodies to issue advisories ahead of Independence Day on the use of Chinese manjhas.