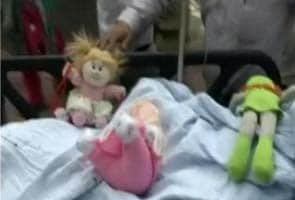 New Delhi:
When he walked to India Gate in December last year, he didn't expect the water cannons or the police force to come down so heavily on peaceful protesters agitating against the gang-rape of a 23-year-old medical student in Delhi. What he never imagined is now too close to home. More than four months after those protests, his five-year-old niece is the reason why youngsters are out on the streets in outrage again.
"I went there to protest against what happened to an unknown person... I never imagined the same thing would happen to someone so close to me", he tells us.
The five-year-old girl is the reason there is anger on the streets of the national capital again. The details of how a 22-year-old neighbour subjected her to such barbaric sexual assault can make even the strongest person shudder with horror.
Unaware of what's happening outside her ward or even hospital, the five-year-old is now recovering. Doctors say her condition is stable and she is conscious, though she will need more corrective surgeries in the days ahead. Her three stuffed toys keep her company in her otherwise unknown environment.
Her relatives say the toys are a gift from doctors at the earlier hospital, Swami Dayanand hospital where she was first taken.
"I don't know where she's getting the strength to fight after everything she has gone through," her uncle said to NDTV.
Now every time she wraps her little fingers around his, he's hopeful she's going to do better than just fight back.
Disclaimer: The opinions expressed within this blog are the personal opinions of the author. NDTV is not responsible for the accuracy, completeness, suitability, or validity of any information on this blog. All information is provided on an as-is basis. The information, facts or opinions appearing on the blog do not reflect the views of NDTV and NDTV does not assume any responsibility or liability for the same.