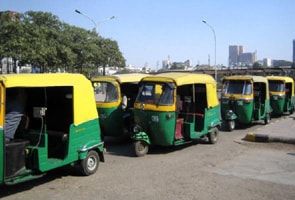 New Delhi:
The Delhi Metro saw a huge rush of commuters at some stations Friday evening due to the autorickshaw strike in the national capital, leading to snags, minor delays and chaos with angry passengers losing their cool on a hot and humid day.
The auto strike was called by some unions to protest the order to install Global Positioning System (GPS) devices on their vehicles.
"Managing the crowds was very difficult today (Friday). The numbers were overwhelming and many men walked into coaches reserved for women," Sushil Gupta, a guard on duty at Rajiv Chowk Metro station, said.
"Some trains where stopped for a few extra minutes at stations because of the huge rush and the commuters where crowding near the gate forcing themselves in," a commuter said.
Aruj Chaudhary, a toys dealer from Karol Bagh, said: "I usually take an auto to carry my toy cartons to retailers. But I was forced to take the Metro because of the auto strike and it was a dreadful experience."
A "technical snag" forced the commuters to wait for more than half an hour at the Kashmiri Gate station around 6 pm, which saw tempers flaring on the platform, leading to chaos.
"There were more than 200 passengers on the platform. The weather was very hot and humid. People had no clue about the cause of the delay and Metro officials were of no help," Ankit Sharma, a management student said.
According to him, things went out of hand when some of the guards allegedly pushed passengers back, leading to heated arguments.
Another passenger, Sunanda Bhasin said: "I knew there would be a huge crowd on the platform. It was a stunning scene there. There was not even an inch left on the platform and people were shoving and pushing from everywhere."
"To make things worse, a number of men forcefully entered the women's coach," she added.
The Metro staff constantly made announcements asking people to behave and calm down while apologising for the delay due to a technical snag.
According to DMRC spokesperson Anuj Dayal, the Metro ridership till 8 pm on Friday stood at 12.9 lakh, which is 70,000 more than the previous days.
He also said that on an average on Friday, the ridership would be around 12.7 lakh.
"But today it registered more footfalls and the busiest stations were Dilshad Garden, Rajiv Chowk, Welcome, Karol Bagh and Anand Vihar," he said.
More than half of Delhi's 55,000 autorickshaws went off the roads from Thursday midnight to protest the government directive to use GPS devices to enable a two-way communication system that will help check speed, route deviation and ensure commuter safety.
School faces ire for teaching pole dancing to kids
(20:41)
London, May 20 (IANS) A dance school in Britain has stoked a public debate and invited criticism for offering lessons in pole dancing to children as young as 12.
The lessons are being run by the Art of Dance pole dance and burlesque school, which claims they are aimed at making people fitter and stronger as well as boosting self-confidence, the Daily Mail reported.
The training requires each child to be accompanied by an adult for at least their first session. They are asked to wear a T-shirt and tracksuit bottoms with shorts underneath for parts of the class that need skin contact.
However, the classes, launched Thursday in Plymouth city in Britain's Devon county, evoked sharp criticism.
Stating the lessons need to be treated with a "great deal of caution", Gary Streeter, Conservative MP for South West Devon, said: "We have a real problem in our country with the increasing sexualisation of children through the media, advertising, branding of products and this kind of thing would be a step in the wrong direction."
He said that it was right to help children to be fit and healthy but any exercise would have to be carefully monitored. "So that they weren't overtly sexual," he said. "We do not want 12-year-olds parading as if in some kind of strip club."
Sam Remmer, founder of the company, and who runs the classes, has defended them saying there is a big difference between fitness pole dancing and exotic dancing.
One held for duping 200 people in Delhi
(19:45)
New Delhi, May 20 (IANS) A man was arrested in the national capital for allegedly duping some 200 people to the tune of crores of rupees, police said Friday.
"The accused, Arvind Kumar Singh, was running Micron Marketing & Services Pvt. Ltd in Paschim Vihar," said Deputy Commisoner of Police Arun Kampani.
"He used to lure the public by saying that they are providing the plots of 1,000 sq feet in Mahabaleshwar, Sholapur, Pune and Nashik for Rs.7,000-Rs.8,000. They used chain marketing system for this purpose and earned crores of rupees by cheating about 200 people," said the officer.
Singh was arrested from Mandi House in central Delhi Wednesday.