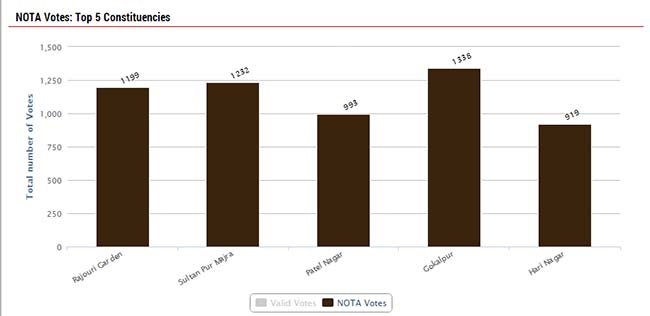 New Delhi:
Introduced for the first time, the None of The Above (NOTA) option got over 45,600 votes, or 0.58 per cent of the total votes in Delhi, the state election commission said on Sunday.
Delhi has over 11.5 million voters.
Yashwant Deshmukh, founder of Centre for Voting Opinion and Trends in Election Research (CVOTER), contended that the Aam Aadmi Party, which made a stunning debut - pushing the Congress to the third place - proved to be Delhi's NOTA. (
NOTA votes in all states
)
"This was expected, especially because protest votes in Delhi went to AAP," Mr Deshmukh said.
"NOTA is anyhow toothless as of now because even if 99 per cent votes are NOTA, and a candidate gets one per cent votes, he will still win," he noted.
Some of the constituencies to have polled highest numbers of NOTA votes in Delhi included Gokalpur with 1,338 NOTA votes and Sultanpur Majra with 1,232 NOTA votes.
Outgoing Chief Minister Sheila Dikshit's New Delhi constituency had 435 NOTA votes, while Krishna Nagar, from where the BJP's chief ministerial candidate Dr Harsh Vardhan was contesting, saw 577 NOTA votes.
NOTA was introduced for the first time for voters in the five state elections following a Supreme Court ruling on September 27.