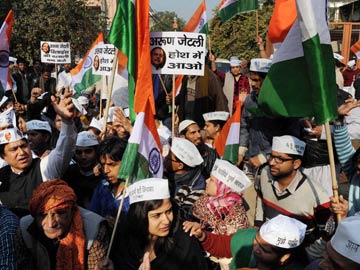 New Delhi:
It was a protest vs protest outside BJP leader Arun Jaitley's house on Tuesday morning, as a turf war raged.
It was triggered by Aam Aadmi Party MLA Madan Lal's claims that the BJP offered him 20 crores to split the Delhi government.
Shouting at the top of her voice, one protester said, "They want this government to fall."
In no time, came a counter protest on the other side of the barricade.
BJP workers arrived carrying placards against Delhi Chief Minister and AAP leader Arvind Kejriwal.
Arun Jaitley said, "This is a party of pathological liars. There are very few instances when government in power protests against the opposition. That's because AAP does not know state craft. It's a party most comfortable with street protests and they seem to believe that's governance." (
Read
)
Though AAP MLA Madan Lal himself clarified he had no proof to substantiate his allegations against the BJP, his party finds there is still a valid reason for the latest dharna by supporters.
AAP leader Sanjay Singh said, "As far as Arun Jaitley is concerned, why are they getting so "touchy"? You protest outside our houses, we never stopped you. There were protests outside the Delhi secretariat, outside the CM's house and outside Manish Sisodia's house. If the AAP workers are doing a non-violent dharna, why are the BJP leaders getting offended?"
Mr Kejriwal's AAP government in Delhi, propped up by the support of Congress and two independents, hangs by a wafer thin majority in the House of 70.
The BJP claims these allegations are false and an attempt to divert from issues of governance.
It was street protests that first propelled the AAP into the spotlight and then into the driver's seat in Delhi - a strategy it won't give up on now as it gets ready to make its debut on the national scene with the general elections.