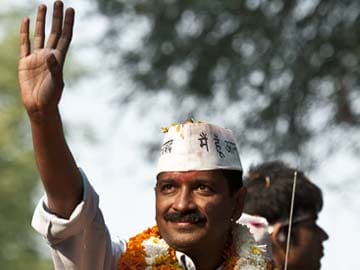 New Delhi:
For Arvind Kejriwal, who has been clocking long hours campaigning for the Delhi elections, this is proving to be a real obstacle course of a week. Such a twisted one that being
splattered with ink
by a heckler is a small blip.
The outsized controversy that the 45-year-old is grappling with is the mistrust voiced by Anna Hazare, with whom Mr Kejriwal co-anchored a massive anti-corruption movement in 2011.
Anna, 76, has
written
to Mr Kejriwal, asking if the funds raised during that movement have been used by Mr Kejriwal's newly-formed Aam Aadmi Party, which became the point of their estrangement.
Late last night, videos allegedly released by supporters of Anna show the Gandhian asking the same question in December.
Mr Kejriwal, hurt, said today that Anna, who he described as his guru, is being misled. "I could have made crores as an income tax officer, but I chose to be honest," he said.
In a
written reply
to Anna, he said that the money they raised with their India Against Corruption movement in 2011 had been audited. Details were not just shared online, he pointed out, but a team of Anna's representatives also reviewed and signed off on the financial statement.
Countering systemic and endemic graft, and holding politicians accountable is what Mr Kejriwal pitched as the first mission statement of his party, when it was formed in November last year. Anna said he could not support a political outfit. Mr Kejrwal said a clean-up drive could only be effective if honest people entered politics and took on the old guard.
He came to that conclusion after a fruitless crusade with Anna for the creation of a national ombudsman or lokpal, empowered to investigate charges of venality against elected representatives.
After a strong start that mobilized vast public support, the movement dissipated.