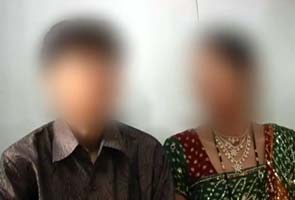 Manesar (New Delhi):
A lesbian couple from Manesar, a small town near New Delhi, dared to marry against the wishes of their families. They were threatened for their actions and are now seeking protection from court.
"Our family members can take harsh steps against us. They even threatened to kill us. We were married on the 22nd and are now in court seeking protection," they said.
The 20 and 25-year-old ran away from home after having known each other for 15 years. Their families have been livid since.
"The problem is from her family's side," one of them said.
Homosexuality may have been decriminalised in India but the law does not recognise same sex marriages.
In January this year, Pooja and Bharati, a same sex couple from Madhya Pradesh, attempted suicide after being shunned by their families.
"After several murders of couples, we have enforced stricter laws for them. The road ahead is far from easy, but these couples aren't deterred" their Lawyer said.
Their next hurdle is on Monday when their plea for protection comes up in court.
The girls say,"Don't fear anything, just follow your heart".
"If they want to take any steps against us, they should not hesitate to do so"they said.
Homosexuality is not just seen in metropolitan cities, smaller town and cities are standing up and asserting their right to choose.