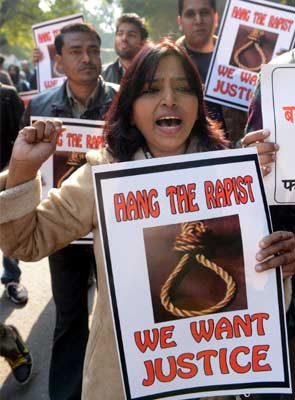 The software engineer who tried to stop his friend, a medical student, from being gang-raped on a bus in Delhi in December arrived in court this morning in a wheelchair. He will testify today again in a special fast-track court against the five men accused of raping and murdering the student, who died two weeks after the horrific assault which triggered massive protests in India, and new anti-rape laws, introduced by the government a few days ago.
The five suspects on Saturday pleaded not guilty to the charges that were read out to them. If convicted, they could face the death penalty. A sixth, who is a juvenile, is being tried separately and faces a maximum sentence of three years in a reform facility.
The engineer, whose leg was seriously injured allegedly when the men on the bus hit him with an iron rod, will testify in court as the main witness for the prosecution today. The police says that when he tried to stop the gang, they hit him repeatedly and forced him to the back of the bus before they took turns raping the student.
Before she died, 23-year-old Amanat (NOT her real name) recorded her testimony for a judge; for the prosecution, her statement along with that of her friend's, will be crucial.
Amanat's friend has said that when three police vans arrived, the cops argued about who should take charge of the case and which hospital the couple should be moved to.
(with inputs from Agencies)