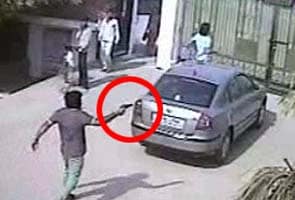 New Delhi:
The two men who allegedly shot politician
Deepak Bhardwaj
at his farmhouse in Delhi last week have been arrested.
Purushottam Rana was arrested from outside a court where he had arrived to surrender, but his accomplice, Sunil Mann, managed to dodge the police and entered a court-room, where he was taken into custody on the judge's orders.
The men are allegedly the gunmen caught in security cameras at Mr Bhardwaj's house on March 26. They shot twice the 62-year-old member of the Bahujan Samaj Party (BSP), whose assets of Rs 600 crore made him the richest candidate in the national election in 2009. He lost the West Delhi seat in 2009 to Congress heavyweight Mahabal Mishra.
A third person, who is suspected to have been driven the car used by the shooters to escape from Bhardwaj's farmhouse, was detained by the police yesterday.
Since the murder, the police have questioned Mr Bhardwaj's wife Ramesh Kumari and sons along with his staff. Investigators believe that a dispute over property or money was the motive for the murder.
Around 40 employees were inside the around 25 acre farmhouse when Mr Bhardwaj was shot.
The police said three men drove a dark grey Skoda car into the complex, Nitish Kunj, which is right next to the National Highway 8 and used as a hospitality hub, at about 8.55 am. They gained entry at the gate on the pretext of booking the farmhouse for a wedding. Once inside they asked for Mr Bhardwaj, had an argument with him and then shot him twice at point-blank range. Two other people were injured.