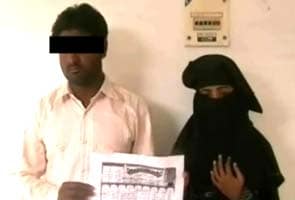 Bareilly:
Nearly 250 kilometres from Delhi, in Uttar Pardesh's Bareilly district, a couple have been ordered by a panchayat to stay out of the village. They say the panchayat threatened to kill them if they were seen in the village.
21-year-old Ahmed Navi married 20-year-old Shama Parveen in a secret ceremony two months ago. They then left Sawar Kheda village for two months. When they returned, Shama claims her uncles threatened them. "We married with our own free will and then we went away for two months. Ever since we have returned, they have been quarrelling with us and giving us death threats. We want to live in peace in our house. Our brothers our uncles are troubling us," said Shama.
And then at a panchayat allegedly held at the local police station they were excommunicated from the village. "There was a panchayat in the local police station where it was decided that we will not enter the village for two years. All these people had done the panchayat and the police did not listen to our pleas that there is a threat to our life," said Ahmed.
The police, however, say the incident in being probed and the couple will be given adequate protection. "The couple is from the same village and married against the wishes of their family. Since then there has been a dispute between the two sides. The police have been ordered to act against the accused and give adequate protection to the couple," said Vinay Kumar Yadav, Superintendent of Police, Bareilly Rural.
Ahmed and Shama married against the wishes of their families two months ago.
This incident comes nearly week after 28-year-old Abdul Hakim was shot dead in Aroli village in Uttar Pradesh's Bulandshahr. Hakim, who had married a girl Mehwish against her parents' wishes, had revealed threats to his life from girl's family members during his appearance in Bollywood actor Amir Khan's TV show 'Satyamev Jayate'. His killing had drawn widespread criticism, compelling the Central government to seek report from the Uttar Pradesh government over the issue.