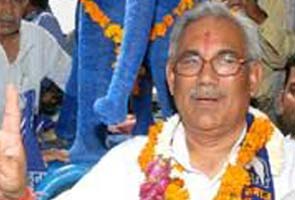 New Delhi:
Two of the four men who have been arrested by the Delhi Police in connection with the murder of BSP leader Deepak Bhardwaj have reportedly told their interrogators that they were paid Rs 1 crore for carrying out the shooting.
According to sources, the accused have also claimed that the man who paid them the money and asked them to murder the politician is a commercial pilot close to his family. Investigations are however on to ascertain their claims, sources add.
Three of the accused - Purushottam Rana, Sunil Mann and Amit Kumar - who were produced in a court in Delhi today have refused to take part in an identification parade. They have argued that their photographs have been widely circulated in media reports and this could hamper their case.
The 62-year-old BSP leader, whose assets of Rs. 600 crore made him the richest candidate in the 2009 Lok Sabha elections, was shot dead at his farmhouse in Delhi on March 26.
The two men who allegedly shot the politician were arrested by the police yesterday at a court where they had come to surrender. A third person, who is suspected to have been driving the car used by the shooters to escape from Mr Bhardwaj's farmhouse, was detained by the police on Sunday. The fourth person under arrest is the owner of the car used by the attackers.
The police have said three men drove a dark grey Skoda car into Mr Bhardwaj's farmhouse, Nitish Kunj, on the National Highway 8 on March 26 and gained entry into it on the pretext of booking the farmhouse for a wedding and shot him twice at point-blank range. Security cameras installed at Mr Bhardwaj's farmhouse captured their pictures.
Sources say the investigators believe that a dispute over property or money was the motive for the murder. The police are questioning Mr Bhardwaj's wife Ramesh Kumari and his sons along with his staff.