Chennai:
A SpiceJet aircraft with over 200 people on board made an emergency landing at the Chennai airport this afternoon after one of its tyres burst during take-off.
All 199 passengers on the flight to Delhi were safe, airport officials said. The primary runway of the Chennai International Airport was closed till 6:45 pm.
A flight due for take-off right after the SpiceJet one spotted debris on the runway, alerting air traffic control. At the same time, the pilot on board the SpiceJet flight also diagnosed problems with the landing gear and requested an emergency landing around 2:25 pm, airport officials said.
"The crew decided to turn back and landed safely at the Chennai airport. Passengers were deplaned safely in a normal manner and taken to terminal building," the airline said.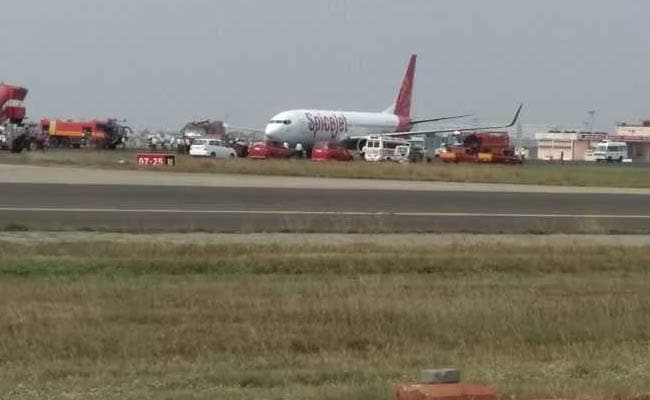 The flight landed safely but a second tyre on the aircraft burst while landing. The main runway was closed down as the aircraft got stuck in the taxiing area.
An Ethiopian cargo plane also had to make an emergency landing after reporting low fuel due to the hold-up.
Chennai's international airport has two runways. Flight operations were directed to the secondary runway, causing cascading delays.
"Due to damage to main runway and aircraft stuck in taxiway near the runway, the same will not be available for operations for at least three hours... Secondary runway is in use currently. Inconvenience caused to passengers is regretted", Chennai Airport said on Twitter.
Due to the emergency landing and main runway closure few flights have been diverted from Chennai Airport.Subsequently flights are delayed for departure. Passengers are requested to contact the concerned airlines for further update on their flight timings. Inconvenience regretted.

- Chennai(MAA) Airport (@aaichnairport) February 8, 2018
Another tweet said at least 21 flights were delayed and six were diverted to Bengaluru, Hyderabad and Tuticorin.
The emergency landing of SG106 and consequent damage to main runway led to several delays and diverted flights. The list of the flights affected are attached. Inconvenience caused to our esteemed passengers is sincerely regretted. @AAI_Officialpic.twitter.com/aVs9jfNByy

- Chennai(MAA) Airport (@aaichnairport) February 8, 2018
(With inputs from PTI)
Get Breaking news, live coverage, and Latest News from India and around the world on NDTV.com. Catch all the Live TV action on NDTV 24x7 and NDTV India. Like us on Facebook or follow us on Twitter and Instagram for latest news and live news updates.