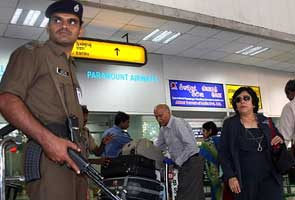 Chennai:
After being interrogated by the Chennai police for almost 24 hours, the man who took photographs of Finance Minister P Chidambaram at the airport yesterday, has been arrested and sent to police remand for two weeks.
The 34-year-old man, Ameer Tawah, belongs to Kerala.
The police says that while he was photographing the Finance Minister, Mr Tawah prevented a public servant from discharging his duty, and have charged him with wrongful restraint. However, they failed to provide details of what Mr Tawah had done to merit those charges.
Police sources say Mr Tawah had a first-class ticket to fly from Chennai to Dubai via Delhi. That circuitous route - instead of a direct flight to Dubai - was among the explanations he was asked to furnish.
Last month, Mr Tawah and another passenger who boarded an Air India Dreamliner flight to Delhi were interrogated after they took photos of the plane before insisting that they be allowed to leave the aircraft because they were unwell.
They reportedly provided contradictory information to the security officials who had questioned them at the time.
Recently, the arrest of a man in Tamil Nadu who posted tweets against Mr Chidambaram's son, Karti, was criticised as an over-reaction in a fierce debate online.