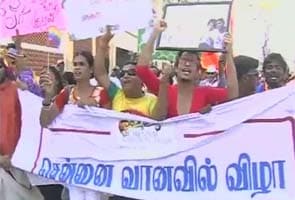 Chennai:
Over two hundred people with alternative sexual choices took out a march, holding aloft placards and banners with slogans against discrimination, near Chennai's Elliots Beach this evening. This is the city's fourth Gay Pride March since it first started in 2009.
Activists hope this annual exercise will help people with a different sexual orientation come out of their shells. Sunil Menon, choreographer and activist, who was part of the rally, seemed happy with the "encouraging response". This will "create awareness in society and help this section integrate with the mainstream."
Despite its 'conservative' tag, Chennai has accepted gay professionals in various walks of life and even boasts of a transgender TV host.
Across the world, June is observed as the 'Pride Month' as it commemorates the anniversary of the Stonewall riots in 1969 when members of the Lesbian, Gay, Bisexual & Transgender (LGBT) community fought against police harassment in New York.
In India, homosexuality is an offence punishable with a maximum sentence of life imprisonment under section 377 of the Indian Penal Code. The demand to decriminalise homosexuality by scrapping what many believe is a regressive provision of law, is still pending before the Supreme Court.