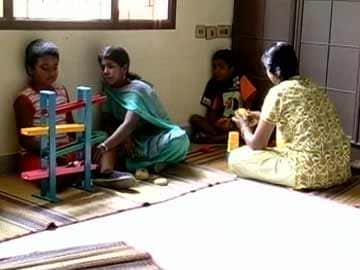 Chennai:
At a hotel in Chennai, parents of autistic children are busy taking lessons on a new child-friendly teaching methodology. The Applied Behaviour Analysis, ABA as it's called, is internationally known for shaping behaviour and developing functional skills among autistic children in a scientific and measurable way.
Ms Smita Awasthi, founder of the ABA Association, told NDTV "As a behaviour analyst, I would demonstrate to parents how to deal with behaviour and how to develop good behaviour among children with autism".
India is witnessing a drastic rise in autism - from one among every 10,000 newborns, the number has now risen to one in every 150. But modern interventions like Applied Behaviour Analysis are only restricted to cities; thousands of autistic children remain undiagnosed in rural India.
Ms Gita Srikant, Director of We Can, a school for children with autism, says, "Here is where we need a huge support from the government. They have access to the remotest villages and their primary health centres to reach out to parents".
Parents who have observed the impact of the new methodology on their children welcome it. "Before ABA came into our life we could not find out what motivation helped my child to learn," says Ms Anupriya Sinha, a parent.
Through a short film, popular star couple Surya and Jyotika have been raising awareness on autism. Celebrated singer Bombay Jayashri too has joined hands. "Children with autism are so honest. Whenever I have had the opportunity to give music classes to autistic children, I feel fulfilled. I feel music has reached where it belongs".