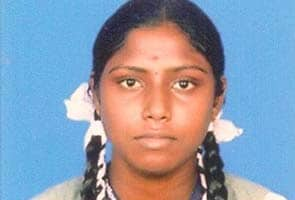 Chennai:
17-year-old Lakshmipriya wants to be an engineer. But, the young Chennai girl suffers from leukemia, commonly known as blood cancer and doctors say she is running out of time.
In a video appeal, Lakshmipriya explains that she needs a stem cell transplant. Doctors have found a matching donor in her sister, but the procedure and the accompanying treatment will cost around Rs. 40 lakh. The family cannot afford that.
Lakshmipriya's father, the only earning member in the family, draws a salary of just Rs. 13,000 per month.
The doctor treating Lakshmipriya, R Varadarajan, told NDTV, "The stem cell transplant has to be performed in two weeks' time."
Through appeals in newspaper advertisements, the family has been able to raise Rs. 6 lakh. But they need much more and are looking for more public support and contributions to save Lakshmipriya.
Despite her illness and having missed classes for four months, Lakshmipriya has managed to score 81 percent in the Class 12 examinations this year, the articulate teen says in her
video appeal
for help.
If you wish to help Lakshmipriya, you can send a cheque or demand draft in favour of:
"Apollo Speciality Hospital to a/c of V Lakshmipriya". Mail it to her father S Velu, 'B' Block No.17, Venkatapuram, Little Mount, Saidapet, Chennai 600015. He can be contacted at 91-9840793744 and apc.velu@gmail.com
Online fund transfer details:

Account Holder's Name:
S Velu
Type of account:
Savings
State Bank of India, No 66, GST Road, Guindy, Chennai 600032
Account No
20061692933
IFSC:
SBIN0000956
Bank email:
sbi.0956@sbi.co.in
Branch Code:
956
Note: This information has been provided/published on a good faith basis, without any commercial motive. NDTV does not vouch for the authenticity of the claims made by the intending donee, nor can we guarantee that the donations made by a donor will be used for the purpose as stated by the intending donee. You are requested to independently verify the contact information and other details before making a donation. NDTV and/or its employees will not be responsible for the same.