Highlights
Protesters gathered at Anna Salai, called for boycott of IPL matches
Many of those protesting were taken into custody by the police
Chennai Super Kings play Kolkata Knight Riders this evening in Chennai
Chennai:
With Chennai Super Kings (CSK) taking on Kolkata Knight Riders (KKR) this evening amid protests over delay in Cauvery board, about 4,000 police personnel are deployed at the MA Chidambaram or Chepauk Stadium in Chennai to ensure the Indian Premier League (IPL) match is played without any disruption.
Hundreds of protesters gathered at Anna Salai, one of the most prominent spots in the city, and called for a boycott of the IPL matches in Chennai. The arterial road is barely a km from the stadium.
Groups of protesters kept moving towards the cricket stadium from various lanes shouting slogans. Some released black balloons into the sky in a sign of protest. Traffic near Anna Salai was chaotic due to protests; many of those protesting were taken into custody by the police.
There were reports of some CSK jersey wearing fans being roughed up fringe groups in Chennai.
Political parties and fringe groups have been demanding cancellation or postponement of all seven IPL matches in Chennai till the centre constitutes the Cauvery Management Board. They are asking spectators to boycott the match.
Empty galleries, they hope, would send a strong message to the centre which they say is defying the Supreme Court Order by not forming the neutral body which would independently assess and share Cauvery waters between Karnataka and Tamil Nadu according to the water sharing deal.
On Monday, a group led by Thamizhaga Vazhvurimai Katchi chief, Velmurugan released black balloons near the stadium. Today, they again tried to stage a demonstration outside the stadium, but the police and Tamil Nadu Cricket Association were prepared. They were immediately removed by cops.
Tough restrictions were imposed amid reports that some groups were planning to stage protests, and wave black flags inside the stadium during the match. Therefore, spectators weren't allowed to bring banners. They were also warned against use of abusive language.
All approach roads to the stadium will have thick police cover to keep protesters at bay. A senior officer told NDTV, "All measures would be taken to ensure peace and order."
Calling IPL matches in Chennai amid widespread Cauvery protests an embarrassment, superstar-turned-politician Rajinikanth on Sunday said, "If they don't cancel, at least they should allow players and spectators to wear black badges."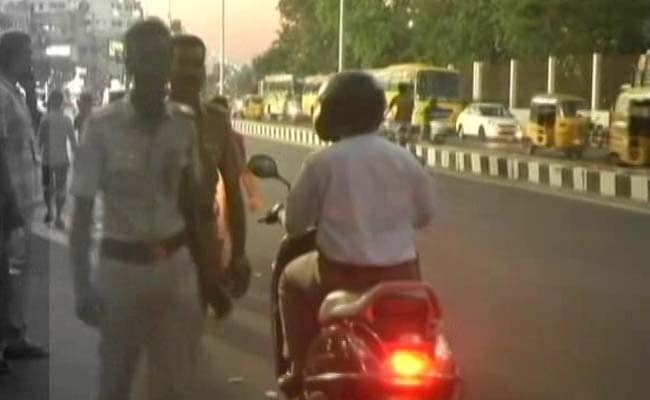 Fans, however, are divided.
Santosh, a college student, sympathises with farmers, but is against the cancellation of the match. He says, "I'm fine with wearing black bands, but cancelling IPL matches isn't the solution."
Rohit, another fan, said, "Politics and sports ought to be kept separate. CSK is playing after two years and we want to watch it."
Karnataka is against the Cauvery board as it doesn't want to lose control of its dams. The ruling BJP, political parties in Tamil Nadu claim, doesn't want to form the body as it could upset poll-bound Karnataka.