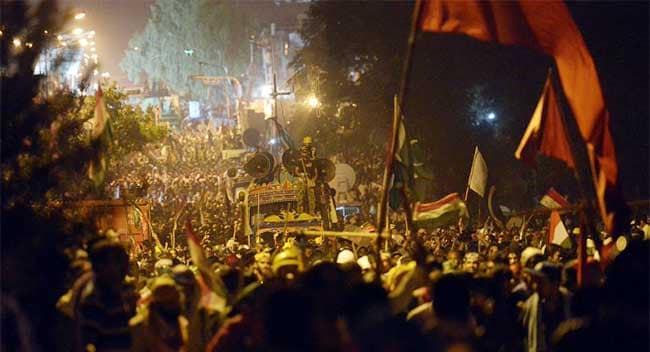 New Delhi:
With opposition leader Imran Khan leading his 'Azadi march' to Parliament House early today and threatening to storm Prime Minister Nawaz Sharif's residence next, the Pakistani government is looking at ways to de-escalate the situation through dialogue. Mr Khan wants the PM to resign.
Here are the latest developments in this story:
A three-member bench of the Supreme Court of Pakistan, headed by Chief Justice Nasir-ul-Mulk, will this morning begin an investigation into Mr Khan's allegations of rigging in last year's national elections. The probe was announced by PM Nawaz Sharif last week. Many saw it as an attempt to preempt the opposition protests.

Mr Khan, a former cricketer who heads the Pakistan Tehreek-e-Insaf (PTI) claims that last year's general election - in which Prime Minister Nawaz Sharif's Pakistan Muslim League-N had won a landslide victory - was rigged. The election was rated as free and credible by international observers.

He has been joined in his protest by and a leading cleric Tahir ul-Qadri. About 30,000 protesters reached Pakistan's Parliament early on Wednesday. They wore masks and hammered through barbed wire and locks connecting shipping containers which the authorities had used as makeshift roadblocks to enter what is called the Red Zone.

Mr Sharif has refused to step down. In a move to underscore the Army's support to his government, he has deployed 700 soldiers to guard the Red Zone, which houses key buildings including Parliament, the prime minister's house and numerous Western embassies.

The military has warned the protesters to keep out of government buildings. The protesters say they will stage sit-ins before Parliament House till Mr Sharif resigns. They entered the Red Zone without facing any resistance and were there overnight. The situation is calm but Islamabad is on high alert.

Despite fears of violence, there have been no major clashes yet. The government had pledged restraint and the soldiers turned spectators as women and children, who are part of the protest, marched on.

Mr Sharif's daughter Maryam Nawaz Sharif tweeted, "PM just told me he has ordered the police not to use any kind of force against the protesters as women & children are in the front rows."

Both Mr Khan and Mr Qadri too asked the protesters to be peaceful. "We will stage such a big crowd that people will forget Tahrir Square," Mr Khan told his followers. "When injustice becomes law, resistance becomes duty. Yesterday we took a giant step 4 Naya Pakistan & democracy.." he tweeted this morning.

Nuclear-armed Pakistan has experienced three military coups and Mr Khan's protest raises fears of the army stepping in. Thus, opposition parties had shunned Mr Khan's call to unseat the government and urged him to come to the negotiating table.

The International community has signaled its displeasure. Britain, one of Pakistan's leading partners and a major aid donor, has urged the two sides to find a democratic solution to the crisis. The European Union also voiced support for democracy in Pakistan - and linked it to a highly prized trade deal.
Post a comment