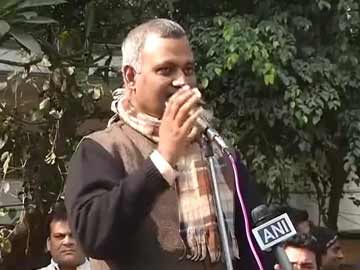 New Delhi: It's only been a few weeks since Aam Aadmi Party leaders assumed office, but on Monday, several of them exhibited extremely unruly behaviour, which has been widely condemned. From abusing police officers to threatening their political opponents with violence, AAP leader also hurled personal insults at journalists who disagreed with them.
Following are some of their controversial comments:
Arvind Kejriwal, Delhi Chief Minister: "They say I am an anarchist. Yes, I am. Today, I will create anarchy for Mr Shinde."
Somnath Bharti, Delhi's Law Minister: "I want to spit at the faces of BJP leader Arun Jaitley and senior lawyer Harish Salve to tell them to mend their ways... I warn you, the public is going to hound you and beat you."
Manish Sisodia, Delhi Education Minister: "You are asking for lawful protests over a young girl being burnt, wait till your daughter is burnt (he tells Ashok Malik on NDTV's show The Buck Stops Here)"
Ashutosh, Journalist-turned-AAP member: "Do you think we are fools? (Repeatedly shouts aggressively at a police officer)"
Sanjay Singh, AAP leader: "DCP saab, your men are disturbing law and order. Please look into it seriously. They have arrested our minister and made him sit in their bus outside the Air Force headquarters. (Was heard saying to a policeman's senior on the phone)"