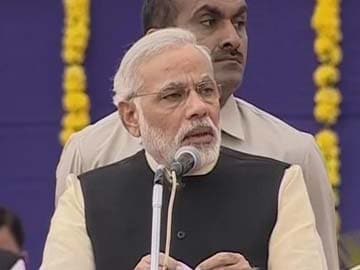 Kevadia, Gujarat:
Gujarat Chief Minister Narendra Modi today laid the foundation stone for a huge statue- intended to be the world's tallest- of Saradar Vallabhbhai Patel. The memorial has strong political undertones as it honours an independence hero from Gujarat who spent his life in the Congress party, the main rival of the BJP, which has declared Mr Modi as its candidate for Prime Minister.
HERE IS YOUR 10-POINT CHEATSHEET:
Mr Modi, laid the foundation stone of the statue in in Kevadia, about 100 miles from Ahmedabad.

Dubbed the Statue of Unity, it is designed to be 600 feet tall and will stand twice the size of the Statue of Liberty.

The statue is estimated to cost 2500 crores or 300 million dollars- and will be funded with public funds and private donations.

"People come to see the Taj Mahal, flock to America for the Statue of Liberty and France for the Eiffel Tower. Now people from all over the world will come here to see this wonder," Mr Modi said today.

The statue will rise is being built on an island in the Narmada river and is scheduled to be completed in four years' time. It is being built by Turner Construction, the company behind the world's tallest building, the Burj Khalifa in Dubai.

Mr Modi urged farmers to donate tools which will be melted down and used in the memorial to Sardar Patel, often referred to as the 'Iron Man of India.' "We have asked farmers from every village in India to give old pieces of their agricultural tools, just 200 or 400 grams would do," the chief minister said.

A metal collection effort covering nearly 700,000 villages across the country will begin Thursday and last until January 26 next year, state officials said.

On Tuesday, while sharing the stage with the Prime Minister, Mr Modi imputed a major controversy by stating that Sardar Patel should have been India's first Prime Minister instead of Jawaharlal Nehru. This was a provocative dig at the Congress, which is led by Sonia Gandhi and her son Rahul, whose great-grandfather was Pandit Nehru.

In an unusually direct rebuttal, the PM said that's Sardar Patel was a secular leader and fought for ideals that are scarce. His remark was seen as a direct attack on Mr Modi, who is accused by detractors of being a divisive leader who propagates communalism

At today's event, Mr Modi retorted that what India needs is "Sardar Patel's kind of true secularism, not secularism for vote-bank politics." His comment is a provocative dig at the Congress, which is accused often of "appeasement politics."