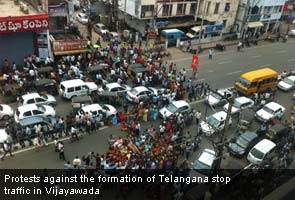 Hyderabad:
At least four ministers from Andhra Pradesh have handed over their resignations to chief minister Kiran Kumar Reddy in protest against the Congress' decision to create a new Telangana state. Six party MLAs have also quit. There is a bandh in the entire coastal belt and in the southern region of Rayalaseema today. Protests have escalated in areas like Vijayawada, Tirupati and Anantpur.
Here are the latest developments in the story:
The four ministers who have submitted their resignation letters met the chief minister this morning. During their interaction, Mr Reddy, who belongs to the Rayalaseema region and supports a "united Andhra Pradesh," reportedly told them, "It is a painful decision for me also. But we now need to look at road ahead and how to move ahead on the new states."

His words however seem to have failed to convince the ministers, who resigned after the meeting saying they want a "united Andhra Pradesh."

The chief minister has difficult days ahead. So far, at least 11 Congress leaders from the Rayalaseema and Coastal Andhra regions have quit their posts to protest against the Congress Working Committee's recommendation to the Centre last evening that India's 29th state, Telangana, be created by taking 10 districts out of Andhra Pradesh.

Today's bandh has been called by the United Andhra Joint Action Committee. Schools, colleges and business establishments are closed across the Coastal Andhra and Rayalaseema regions, collectively referred to as Seemandhra. At most places, state transport buses are not plying.

In Vijayawada, protesters opposed to the bifurcation held demonstrations and shouted "United Andhra" slogans. At the busy Benz Circle, some of them stopped a bus. Few shops that were opened were forced to shut. In Tirupati, hundreds of students and traders took to the streets slamming the UPA's decision. Most shops and business establishments here were closed, traffic however was not interrupted. Protesters reportedly also attacked the Congress office in Anantpur district.

A big concern is the status of Hyderabad, which, the Congress suggests, will be a common capital of the two states for 10 years, after which it will be part of Telangana and the other state will get its own capital. People in the Rayalaseema region worry that if the bustling IT city is lost in the bifurcation, they will be set back by several years economically. Students in places like Tirupati say they are worried about where they will go to study and work if Hyderabad becomes part of a different state.

Telangana, the largest of the three regions in Andhra Pradesh, contributes more than 60 per cent to the state's revenue and is home to 40 per cent of its population. In comparison, Coastal Andhra accounts for 14 per cent of the state's earnings; Rayalaseema brings in just four per cent.

Over the next few months, the Centre will ensure that the concerns of the residents of Telangana and Seemandhra are addressed and resolved within "a specified time frame". The focus will be on how to distribute resources like water, electricity and revenue between the old and new states.

Of Andhra Pradesh's 42 parliamentary seats, almost half lie in Telangana; by acquiescing to popular sentiment, the Congress is hoping for a windfall in the national elections, now just months away.

The Telangana Rashtra Samithi or TRS, headed by K Chandrasekhara Rao or KCR who has spearheaded the demand for Telangana in recent years, has welcomed yesterday's decision, but said it wants more clarity on the status of Hyderabad as a common capital for 10 years. KCR also said that his party would wait for Parliament to approve the decision before celebrating.