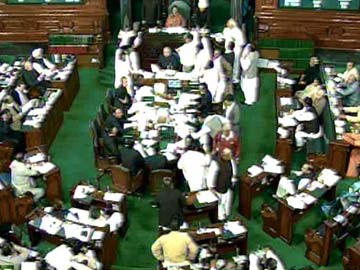 New Delhi: The historic Lokpal Bill today took a giant step towards enactment after a 46-year wait, with the Lok Sabha passing it a day after the anti-corruption measure sailed through the Rajya Sabha with the support of opposition parties.
Here are the latest updates on this story:
The LokSabha passed the Lokpal Bill today after the anti-corruption measure was passedin the Rajya Sabha on Tuesday.

Thelower house had allotted four hours to debate the Bill, which provides for apowerful national ombudsman to investigate wrongdoing in government.

Thebill was passed in less than an hour and voted on amid slogan-shouting byAndhra Pradesh MPs opposed to the creation of Telangana.

AnnaHazare and his supporters celebrated the passing of the Bill that they hadcampaigned for since the past few years.


SeniorBJP leader Sushma Swaraj, the Leader of Opposition in the Lok Sabha, appearedto target the ruling Congress as she criticized attempts to take credit forpushing the Lokpal Bill.

It isour responsibility to complete our unfinished fight against corruption,"said Congress leader Rahul Gandhi, whose party has credited him with leadingthe Lokpal push ahead of the national election due by May.

MrGandhi had called for an extension of the current session to pass six moreBills to check corruption. The House has, however, been adjourned for thesession.

Thegovernment's floor managers on Tuesday had persuaded the Samajwadi Party of MulayamSingh Yadav to tone down their stance and allowed the party's Ram Gopal Yadavto voice his objection before staging a strategic walkout ahead of the debate.

The Congress party's redoubled push for the Lokpal Bill is being seen in the context of its humiliating defeat in the Delhi elections. Arvind Kejriwal's Aam Aadmi Party or AAP made a stunning debut with its promise to fight corruption, decimating the Congress after three terms.
In December, 2011, the Bill was cleared by the Lok Sabha but was stalled in the Rajya Sabha. It was then sent to a parliamentary committee for review. The amended version was introduced in both the houses this week.