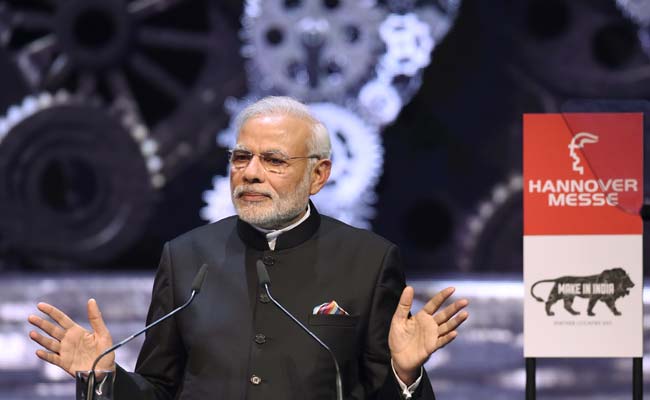 Hannover:
Prime Minister Narendra Modi, who on Sunday promised global investors all possible steps to make it easy to do business in India at a gigantic trade fair in Hannover, Germany, today inaugurated the India stall. He will also interact with Indian CEOs.
Here are the latest developments:
On Sunday, PM Modi inaugurated along with German Chancellor Angela Merkel, the Hannover Messe - the world's largest trade fair where top businesses from many countries gather. He promised that his government is "removing unnecessary regulations and simplifying our procedures" to make doing business in India easy.

PM Modi promised a "predictable, stable and competitive" tax regime as he pitched his 'Make in India' agenda. "I want to thank you for allowing us to unleash our lions in this city... the lions are a symbol of new India," the PM said, referring to the 'Make in India' logo of a lion made of cogs to depict manufacturing.

On Sunday, PM Modi had dinner with Ms Merkel and both leaders spoke to industry.

On Monday, after his meetings with Indian business leaders at the trade fair, PM Modi will leave for Berlin, where he will meet members of the Indian community in Germany. The grandnephew of Subhas Chandra Bose has said that he will try to meet the Prime Minister and discuss the controversy over the alleged spying on close relatives of the freedom fighter.

The Prime Minister met 14 top German business leaders at a roundtable in Hannover on Sunday and told them he keeps a checklist of about 80-90 things that need to be bettered in the country.

"The Prime Minister said that he does a status check on this list every 15 days or so," said foreign affairs ministry spokesperson Syed Akbaruddin, adding, "And he follows it up with the states to see what improvements have been made."

The CEOs shared feedback on doing business in India. Some German companies brought up land acquisition as a hurdle to investing in Indian projects; back home the Modi government is struggling to push major reforms to address that.

Executives from BMW told the Prime Minister that India's tax structure is problematic. Other companies talked about the problem of tight delivery timelines.

"The Prime Minister told them that he had to work with the states," said Mr Akbaruddin. This is the first time that 14 states are participating at an international fair like Hannover, competing with each other to get investment.

The PM is on a nine-day tour of three countries. He spent three days in France before landing in Germany for a two-day visit. He goes to Canada from Germany.