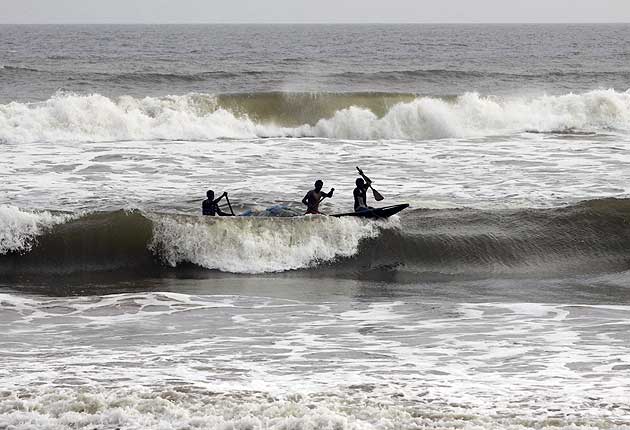 Bhubaneswar:
Cyclonic storm "Phailin", classified as "very severe" by the weather department, is expected to hit coastal Odisha and Andhra Pradesh at around 5:30 pm on Saturday. In Odisha, officials fear the wind speed could touch levels higher than that of the deadly super-cyclone in 1999 when nearly 15,000 people died.
Here are the latest updates
Experts say the wind speed is at 200 to 210 km per hour and is expected to touch 230 km per hour when the cyclone hits the coasts of Odisha and northern Andhra Pradesh tomorrow. (Track LIVE updates)

'It is not a super-cyclone yet but moving towards that," said the Indian Meteorological Department chief LS Rathore.


Five districts are preparing for the worst impact of the cyclone: Srikakulam in Andhra Pradesh and Ganjam, Puri, Khordha and Jagatsinghapur in Odisha.


The Defence Minister has asked the Army, Navy and Air Force to be ready for emergency and relief operations.

Odisha's Disaster Management Minister Surya Narayan Patra told NDTV, "We are fighting against nature. We are better prepared this time, we learnt a lot from 1999."

There is heavy rainfall in parts of Odisha and Andhra Pradesh. People along the coasts have been asked to move to higher grounds. "The first priority will be to save people's lives, ensure food and electricity," said the Odisha minister. The state government keeping choppers and food packages ready for areas expected to be worst hit.

Government holidays have been cancelled for the next month in both states.

Due to the cyclone alert, thousands of power sector employees from the Seemandhra region of Andhra Pradesh, who were on strike to protest against the Centre's decision to split the state, have decided to return to work for now. (Read: Seemandhra power strike ends - temporarily, warn unions).


Large parts of the 13 districts of Seemandhra had been without power for six days because of the strike.

Lakhs of government employees from other departments who have been on strike have also said that they will help with any relief and rehabilitation work by temporarily returning to work if the cyclone hits.
Post a comment