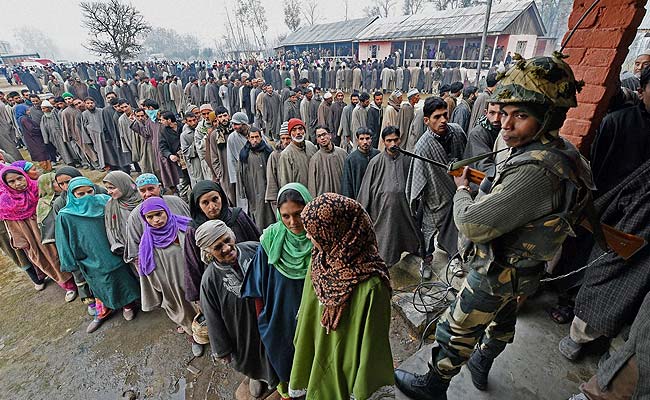 Srinagar:
With long queues and brisk polling through the day, Jammu and Kashmir today saw a voter turnout of 70 per cent in the first phase of assembly elections and many people were still waiting to vote beyond the scheduled close of polling at 4 pm, the Election Commission has said.
Here are the latest developments in this story
The 70% voter turnout in this phase is a big increase over the 64.97% in the last assembly elections in these areas, the commission said, also noting that voting was peaceful.

It credited the higher voting percentage to "good security, confidence building and the zeal of voters"

For the first time in 25 years, people ignored a boycott call by separatists to line up in large numbers to vote. Despite the bitter cold, voters queued up at polling stations much before polling began at 7 am.

Voting was held in 15 of Jammu and Kashmir's 87 constituencies - six seats in the Jammu division, five segments in the Kashmir valley and four in Ladakh.

Prime Minister Narendra Modi had tweeted this morning, "As polls begin in Jammu and Kashmir and Jharkhand, I urge my sisters and brothers in these states to go out and vote in large numbers." Voting was also held in 13 constituencies in Jharkhand. Votes in both states will be counted on December 23.

No militancy-related incident was reported in Jammu and Kashmir today. Polling was briefly disrupted at Barsoo in Ganderbal district after clashes broke out between two groups, but resumed soon.

For the first time there is a four-way battle between the Congress, Chief Minister Omar Abdullah's National Conference, the Jammu and Kashmir People's Democratic Party (PDP) and the BJP, which has set itself the target of winning 50 plus seats in the 87-member assembly, with an eye on forming government.

The BJP hopes to replicate its success in the Maharashtra and Haryana assembly elections last month in Jharkhand, though it has never before been seen as a major political player in J&K.

In the national elections this year, the BJP registered its best performance ever in Jammu and Kashmir, winning three of six Lok Sabha seats. The PDP had won the other three, with the Congress-National Conference alliance routed.

The Congress and the National Conference had won the last assembly elections. They were partners till July this year, when they parted ways and decided to contest separately this year.