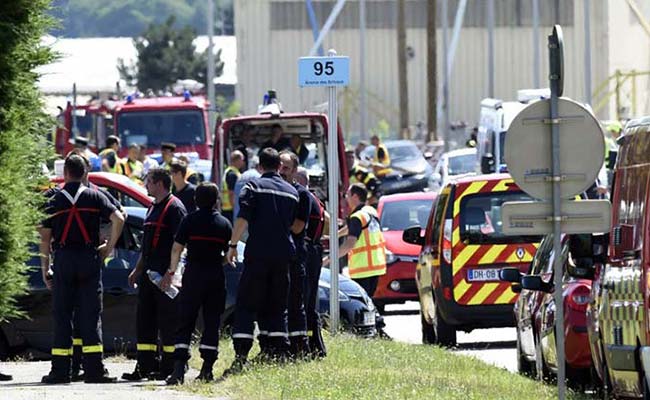 Saint-Quentin-Fallavier, France:
A decapitated head covered in Arabic writing was found at a US gas company in southeast France on Friday, police sources and French media said, after two assailants rammed a car into the premises, Reuters reported.
Here are the latest developments:
"It is indeed a terrorist attack," said French President Francois Hollande in a live address from Brussels where he was attending a European Union meeting. He said a suspect had been arrested and identified.

Interior Minister Bernard Cazeneuve, who reached the site of the attack, said the suspect arrested was investigated nine years ago for radicalisation and has links to the Salafist movement.

"He was investigated in 2006 for radicalisation, but (the probe) was not renewed in 2008. He had no criminal record," Mr Cazeneuve said, adding, "This individual has links with the Salafist movement, but had not been identified as having participated in activities of a terrorist nature."

The police are reportedly checking whether a man named Yassin Salhi is involved in the attack. Police sources said the attack, in which one person was killed and at least one was injured, bore the hallmarks of Islamist militants.

Police sources said the decapitated head was found at the factory site, along with a flag bearing Islamist inscriptions. Local newspaper Le Dauphine said the head was also covered in Arabic writing.

The French public prosecutor said its anti-terrorist section has been deployed to investigate what it described as a suspected organised attack.

French officials said the attack began mid-morning when two men crashed a car into the entrance of the gas factory in Saint-Quentin-Fallavier about 400 km from Paris, hitting gas canisters and touching off an explosion.

The factory belongs to Air Products, a US-based industrial gases technology company, according to a spokeswoman for Air Liquide, a French company in the same sector. It was immediately ring-fenced by police and emergency services.

French Prime Minister Manuel Valls ordered heightened security measures at "sensitive sites" in the surrounding Rhone-Alpes region.

In January this year, a terror attack left 17 people dead in the Paris region, beginning with a shooting of 12 people by two brothers at the office of satirical magazine Charlie Hebdo.