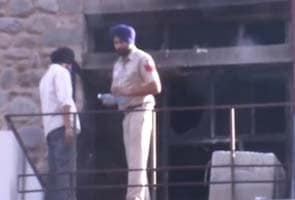 Chandigarh:
A badly burnt body was found on Thursday from hostel number 2 of the Panjab University boys' hostel in Chandigarh by Fire Department officers.
A fire tender was pressed into service in the afternoon after boarders raised an alarm about thick smoke billowing out from a room on the second floor of the hostel.
According to Chandigarh's Station Fire Officer M L Sharma, they entered the second floor room from the rear.
"A cooler kept in the room had fallen down. Our officers first noticed flames and thick smoke, but when the fire was put out, a badly charred body was found lying on its back on a cot kept inside," he said.
Deputy Superintendent of Police, Ashish Kapoor said, police was investigating the matter.
"We cannot say anything now. The room was bolted from inside and the identity of the deceased has not been ascertained. A CFSL team is also assisting us," Kapoor said adding that the room was booked in the name of Amandeep of Moga district.