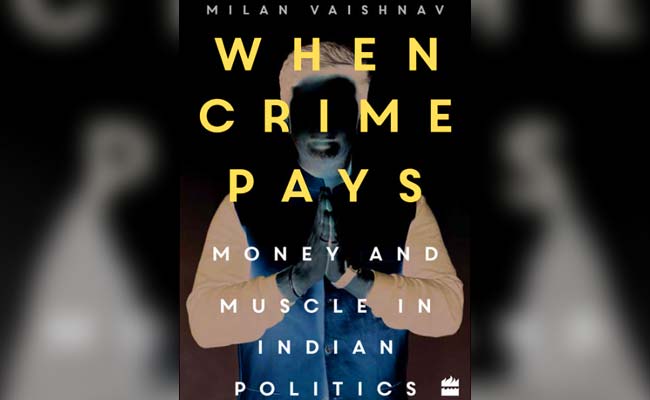 Milan Vaishnav is a senior fellow at the Carnegie Endowment for International Peace. The following is an edited excerpt from his new book, "When Crime Pays: Money and Muscle in Indian Politics" (HarperCollins India, 2017). You can order your copy here.
As the sweltering sun set on the banks of the Godavari River in Andhra Pradesh, evening traffic along a two-lane highway abutting the river ground to a halt as our car approached a police checkpoint. With state and national elections only days away, the Election Commission of India (ECI) had set up a series of checkpoints to clamp down on the movement of illicit campaign cash. As traffic backed up and the incessant honking of cars grew intolerable, I exited the car and found my way to a roadside stall serving soft drinks, where a group of college-age boys were chatting. I asked one of them how he felt about the coming May 2014 general election.
"Modi is going to win. It is not even a contest," he replied confidently. Taken aback by his certitude, I felt that it was my duty to point out that neither Modi's name nor his party's symbol was actually on the ballot in this area. Voters had to pick a parliamentary candidate and, in this particular constituency in Andhra Pradesh, Modi's Bharatiya Janata Party (BJP) had given the seat to its local alliance partner, the Telugu Desam Party (TDP). For years, this part of the state had been a TDP bastion.
"I will vote for the TDP candidate because the TDP has an arrangement with the BJP," the boy explained. "With the votes the alliance gets in Andhra, the BJP will form the government in Delhi and Modi will become prime minster."
When I asked the boy why he wanted so badly for Modi to win, he responded: "Because he has done good work in Gujarat. And because he will tackle corruption." When I probed further about the nature of Modi's good work as chief minister, the boy demurred. He gestured in the direction of the checkpoint and suggested that such things would no longer be necessary if Modi won and could enforce his will.
This idea - that one man would be able to make a serious dent in the problems that plagued India's politics - seemed fantastical, but I could not fault the boy for thinking that it was possible. For the previous several months, Modi had traversed the Indian heartland pledging to root out corruption and, specifically, to end Indian democracy's dalliance with politicians linked to criminality.
One day before I arrived in Andhra Pradesh, Modi campaigned in the state of Rajasthan, touting his commitment to tackling the underbelly of Indian democracy. "There is a lot of discussion these days on how to stop criminals from entering politics. I have a cure and I have vowed to clean Indian politics." His plan, Modi went on to explain, was to set up fast-track tribunals that would hear the cases of sitting politicians accused of wrongdoing. "I am positive after five years of our rule, the system will be absolutely clean and all criminals will be behind bars," he continued. "I promise there will be no discrimination and I won't hesitate to punish culprits from my own party."
A week later, while addressing a series of campaign rallies in the battleground state of Uttar Pradesh, Modi again picked up the thread. "We need to rid Parliament of criminals...I won't let them off the hook if I'm elected to power," Modi told his audience in Hardoi. At a rally later in the day, this time in Etah, Modi reiterated his pledge: "We must do away with [the] criminalisation of politics, and delivering more lectures won't help." In the town of Mathura, the fabled birthplace of Krishna, Modi declared: "No [criminal] accused will dare to fight polls. Who says that this cleansing cannot happen? I have come to cleanse politics."
These frank words, emerging from the mouth of the most popular politician in all of India, came as a breath of fresh air. Politicians in India rarely speak candidly, or self-critically, about the challenge criminality poses to Indian democracy. The idea of setting up tribunals to dispose of high-profile criminal cases involving politicians has been floating around for several years. But Modi was perhaps the first major politician to provide such full-throated support for the move.
When all the votes were cast and counted, the BJP claimed victory in 282 races-an outright majority in the Lok Sabha. The resounding victory for Modi and the BJP, the stunning repudiation of the incumbent Congress Party, and the rhetorical emphasis on
vikas
(development) during the campaign led many analysts to dub the 2014 campaign India's "good governance" election.
Offsetting Modi's strong words and the election's tag line, however, was the simple fact that the prime minister's own party had embraced dozens of candidates who had serious criminal cases winding their way through the creaky Indian justice system. Of its record number of MPs, 35 percent faced ongoing criminal cases, and 22 percent had serious cases pending, according to affidavits candidates themselves submitted to the ECI. In one of his maiden speeches in Parliament, Modi reprised his verbal assault on the criminalization of politics, comparing the entry of bad governance into administration to diabetes infiltrating a person's body. Notwithstanding these harsh words, 13 of the BJP's suspected MPs would eventually find their way into Modi's first cabinet, including 8 legislators with serious cases. In response, the BJP leadership argued that the cases against their party men were politically motivated and lacking any legal basis, a standard first line of defense.
One such MP earning a ministerial berth was Sanjeev Baliyan, a man allegedly connected to the tense ethnic situation in the Western Uttar Pradesh town of Muzaffarnagar, which was the sight of grisly riots in 2013. Baliyan won the constituency's seat in Parliament in spite-indeed, perhaps because-of his having been charged with inciting violence that led to the death of more than 50 people and the displacement of more than 50,000. A report in the
New York Times
describes Baliyan, a political dilettante who had previously been employed as a veterinarian, as "a first-time officeholder famous for precisely one thing" - his role in the riots. In summer 2014, BJP sources told me that Baliyan's inclusion in the cabinet was a fillip to the Rashtriya Swayamsevak Sangh (RSS), the BJP's ideological fountainhead, since he was widely regarded as a strong pro-Hindu voice. "Yes, I am a novice in politics," Baliyan once said, "but I am a fast learner."
Joining Baliyan on a BJP ticket from Uttar Pradesh was Brij Bhushan Sharan Singh, ringing in his fourth term as an MP. Sharan Singh had gotten his political start with the BJP but later abandoned the party, only to be lured back in 2014. In a somewhat ironic twist, he rejoined the party to much fanfare at a major event attended by key BJP leaders, at the same time Modi was barnstorming the state railing against the use of criminal politicians by the state's regional parties.
As an MP, Sharan Singh was not bashful about brandishing his strongman reputation, though he claimed it was for those who were helpless. "I have never troubled the poor and the decent," Sharan Singh once stated. "And I have never shied away from taking on those who oppress others." Once, when launching a protest over the inaction of the local police, Sharan Singh was asked about his tendency to create a ruckus for political gain: "I am a mafia man. How can I be Gandhi? I have forty cases lodged against me," the MP remarked. "How can I be any good? I try to do my best. This is the public. I want to be of some help to them." In 2015, Sharan Singh added another title to his CV: he was unanimously reelected president of the Wrestling Federation of India.
While both Baliyan and Sharan Singh are BJP representatives hailing from Uttar Pradesh, the crime-politics nexus cannot-and should not-be reduced to a single party or a single state. 2014 also marked the triumphant return of Bihar
bahubali
Pappu Yadav to Parliament, then of the Rashtriya Janata Dal (RJD). After a surprise acquittal in a case involving the murder of a bitter political rival, Yadav seamlessly moved from jail to the hallowed halls of Parliament House. While he was sidelined in jail, Yadav had recruited his wife, Ranjeet Rajan, to act as the family's torchbearer. She campaigned in his name, winning a seat in Parliament. In 2014, they assumed their seats in Parliament next to one another.
The Maharashtra-based Shiv Sena also found itself ascendant again in 2014. The previous year, the militant Sena suffered a major blow when its founder and chief agitator, Bal Thackeray, unexpectedly passed away. The Sena's standing had taken a hit but its electoral fortunes, and those of its avowedly fearsome legislators, quickly rebounded-thanks in no small measure to its alliance with the BJP.
One of the men who would come to represent the Sena in the newly formed Lok Sabha was Rajan Vichare, who put up a sustained record of electoral success in the Thane region while also being fingered in at least thirteen criminal cases winding their way through the courts. A longtime Shiv Sainik, Vichare openly embraced Thackeray's methods of "direct action." "Shiv Sena is known to be in such a way," explained Vichare to the scholar Thomas Blom Hansen, "that if there is injustice we will fight it in a rather dashing way." Indeed, Vichare claimed his illustrious criminal record was the result of his no-holds-barred brand of constituency service: "The cases against me pertain to issues related to the public for whom I have been fighting all along," he explained to a journalist. "One case is of assaulting an engineer, which was over a delay in flyover work. It was not a personal issue but for the people." Vichare's work on behalf of "the people" was perhaps less evident in an incident that grabbed headlines after the election, in which the MP was caught on video stuffing a
chapati
into the mouth of a Muslim cook at a state-run facility who was fasting in observance of Ramadan. Vichare claimed that the tussle was about the sad state of the cuisine in the Maharashtra canteen in Delhi, nothing more.
Known as the "Robin Hood of Baharampur," Adhir Ranjan Chowdhury won election from the state of West Bengal on a Congress Party ticket. Chowdhury, who faced sixteen ongoing criminal cases at the time of election and is the president of the Congress unit in the state, once made light of his lengthy criminal rap sheet by asking reporters not "to talk of any charge lower than that of murder against me. If you do so then my status would go down." During the 2006 West Bengal state assembly elections, a jailed Chowdhury was unable to campaign but asked his supporters to play his prerecorded speeches in lieu of a campaign; he won the race.
When the final votes were tallied on May 16, 2014, the share of elected lawmakers implicated in criminal proceedings - across the board - climbed to new heights, touching all four corners of the country. This share grew despite the unprecedented level of attention showered on the election proceedings. The 2014 race marked the first time social media was intensively deployed in the service of an Indian election; as a result, details about candidates, campaign rallies, and public statements gained more airtime than ever before.
What this means in practice is that voters are not necessarily blind to the predilections of the political class: many voters vote for politicians
because
, rather than
in spite
, of their criminal reputations. This raises the prospect that what may look like misgovernance to some Indians actually resembles the very essence of governance to millions of others.