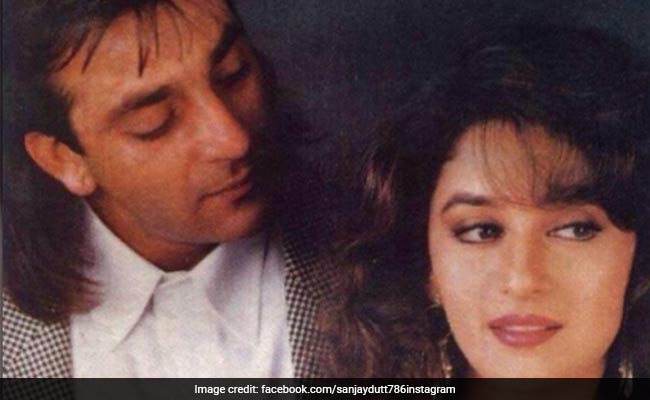 At the premiere of
Saajan
in 1991, the crowd went berserk cheering for Sanjay, who came wearing a grey double-breasted suit and a printed silk tie. Madhuri attended the event wearing a blue-and-gold lehenga-choli. According to a film-maker who has worked with Sanjay and was at the premiere at Minerva theatre, 'The crowd cheered loudly when Sanjay and Madhuri came on stage...there were constant rumours of [a] Sanjay-Madhuri affair...On the stage Sanjay and Madhuri didn't look at each other even once...They were aware of the media eyes on them.' More than the success of
Saajan
and Sanjay's new superstardom, it was the Sanjay-Madhuri story that was taking up column inches in film magazines. Despite both of them denying the relationship, there were cover stories laden with innuendo about them.
The media had even been suggesting that Sanjay was planning to divorce his wife Richa. In 1992 Sanjay and Madhuri were shooting together, this time for Subhash Ghai's high-profile venture
Khalnayak
. The press was obsessed with their 'electric chemistry' and they were openly referred to as a couple. There is no doubt that they were fond of each other, and Madhuri at least didn't try to hide it. She once told an interviewer, 'My favourite partner is Sanjay Dutt, he's a real joker...and his stories make me laugh all the time, but he is also a gentleman.' To another interviewer, she said, 'Sanju is a fantastic person. He has a loving heart and, in contrast to the widely held view, a good sense of humor. He is the only guy who makes me laugh all the time. He does not play games. He is open and uncomplicated.' But Madhuri didn't say much more than this to the press.
Most of their friends and industry insiders believe, however, that theirs was not a passing affair. They were apparently serious about each other and there was even talk of an impending wedding. The February 1993 cover story of
Star & Style
magazine was unambiguous in its assertions: 'Sunjay's desperate need for an emotional anchor took him into the arms of the
ek do teen
actress...engulfed in the flames of passion, Sunjay is ready to take on the world for the sake of his love.' Even
Filmfare
did a cover story titled 'Madhuri to Marry?', which hinted that Madhuri was planning to get married in 1994 - it didn't say to whom - and that she would leave the film business after her wedding. In the same story, it was reported that Sanjay and Madhuri had grown close during the Mysore schedule of
Sahibaan
(1993) and that 'Sanjay played Prince charming to the hilt'. Midway through the schedule the location was shifted to the picturesque hills and dales of the Himalayas in Manali. According to
Sahibaan's
director Ramesh Talwar, 'He [Sanjay] was always following Madhuri around and whispering "I love you", totally ignoring the fact that there were others around.'
The rumours reached Richa in New York. She was getting restless and wanted to save her marriage. Her cancer was better and, with her doctor's permission, she wanted to come back to India. The press lit into Sanjay for forsaking his ailing wife. The aforementioned
Star & Style
cover story was titled 'Sunjay-Madhuri - Will Marriage Destroy Them Professionally?' (February 1993). It said, 'They (Sunjay-Madhuri) have braved it all. Their own initial personal doubts (Should we get into this?", their parental opposition ("It's not the right thing to do.") and the society's outrage ("How can they be so selfish and mean?"). The couple in love's defiant stand ("It's our lives, we can do what we want..."") however, has undoubtedly brought their respective images crashing down in the eyes of their idolising fans.'
According to film-maker R.K. Nayyar, 'When I met Sunil (Dutt), and we got talking about this affair, he told me that Sunjay does not remember Nargis's traumatic death...that entire thing is a total blank for Sanju because of his drug phase. Had he realised his mother's sufferings, he would not have let Richa go through this emotional trauma.'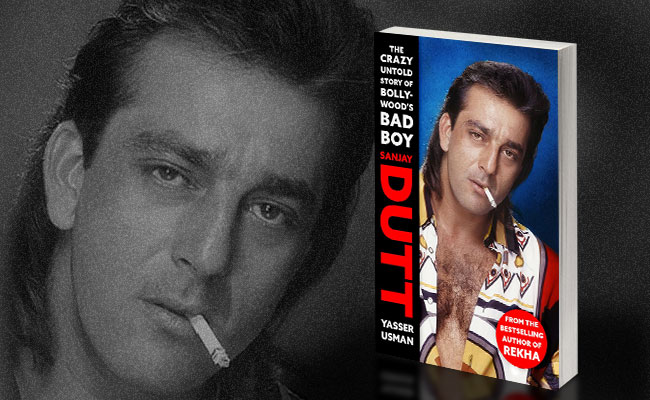 In October 1992, over three years after she left India, Richa came back to Mumbai with Trishala. She was cancer-free. But Sanjay was avoiding her. He had moved on. In an interview to
CineBlitz
, Richa's sister Ena Sharma said that Sanjay didn't even come to the airport to pick up Richa and Trishala.
CineBlitz:
He didn't come to fetch her at the airport?
Ena Sharma: No, Richa called him twice...
CineBlitz:
If he didn't even bother to receive her at the airport why do you think Richa is going to settle down here?
Ena Sharma: Because she loves him. Point blank - she just loves him. I don't think she wants to let him go. If he has plans of leaving I think it's something that Richa is going to take very hard.
Richa wasn't quiet either. She put up a brave face and acknowledged the discord in an interview. 'We've been apart for so long, we're not totally in tune with each other. But it is nothing serious, we can overcome it.' Richa naively brushed away talk of a divorce, saying, 'I did ask Sanjay if he was going to divorce me and he said absolutely not. As for me I don't want a divorce. I've come down because I want to be with him again.'
Despite Richa's optimism and fighting spirit, what happened next spoke louder than any sound bite. After spending just fifteen days in Mumbai, she abruptly went back to New York. According to the Sharma family, throughout her fight with cancer, Richa was motivated by the thought of finally getting to live a normal, happy life with Sanjay and their daughter. But now that she was in remission, her dream seemed futile and unattainable. Richa was shattered. 'I love him with all my heart. Whatever happens, I will always stand by him. He treated me very shabbily when I came down to meet him,' Richa told an interviewer.
Did Sanjay's marital status weigh on Madhuri's mind? She belonged to a conservative family and had a clean image in the media. As the
Star & Style
story had hinted, there would surely be PR repercussions to marrying the husband of a woman who suffered through cancer only for him to leave her. But Reema Rakesh Nath, scriptwriter-director and wife of Madhuri's secretary Rikku Rakesh Nath, said, 'I don't think Madhuri's personal choice for Sanjay should come in the way of her career. Look at Hema and Dharamji. Hema has retained her dignity, despite her marriage to a much-married man.'
Ena, however, wasn't about to give Madhuri a free pass. In the same interview to
CineBlitz
(December 1992), she tore into her: 'Madhuri is so inhuman...I mean Madhuri can get any man she wants. How can she go for a man who's behaved in such a way with his wife?...I know they are good friends because he's called her from our house. And he does talk to her brother and her sister here. But we never looked at it as if "okay the guy's involved with Madhuri". We're very open, we've always given Sanjay his space.'
Though Richa seemed to want to work things out, Sanjay filed for divorce in early 1993. Richa was furious. 'Where did I go wrong? I just fail to understand what he wants in life. A pretty chick who's skinny? I believe that's the reason why he fell for Madhuri...Sanju made a great boyfriend. As a husband, it was a different story.' A bitter custody battle for Trishala ensued and there was much unpleasantness between the families. But worse was to follow - by mid 1993, Richa's cancer was back. Sanjay was crucified by the press for his 'humiliation' of Richa.
Excerpted with permission of Juggernaut Books from Sanjay Dutt: The Crazy Untold Story of Bollywood's Bad Boy - by Yasser Usman. Order your copy here.