Over the last few days, I had backed the Marina Movement against the Jallikattu ban through my columns and commentary on TV channels. As a lawyer, I genuinely believe that the Supreme Court's verdict in 2014 overlooked the cultural rights of Tamils enshrined under Articles 29(1) and 51A(f) of the Constitution. The peaceful, non-violent crusade on the beach by the masses with no political affiliations or vested interests was like a sequel to the "People's Power" during the Chennai deluge in December 2015.
Early this morning, as I was driving past the American Consulate to drop my kids in school, I noticed an auto-rickshaw with a flex banner: "Free Ride For Jallikattu Protesters to the Marina." It reinforced my view that this was truly an uprising by the common man, cutting across all barriers. As I kissed my twin angels at the school gate, they reminded me about my promise to buy new shoes for their sixth birthday on Wednesday on the way back.
While drafting a few documents at my law chamber, my wife kept flipping news channels and filling me in with the latest updates. It broke my heart to see what was such a historic and peaceful demonstration suddenly turn into violent scenes with a police lathi-charge. A city that gave its iconic iron lady Jayalalithaa a dignified farewell just last month had turned into a place I couldn't recognise.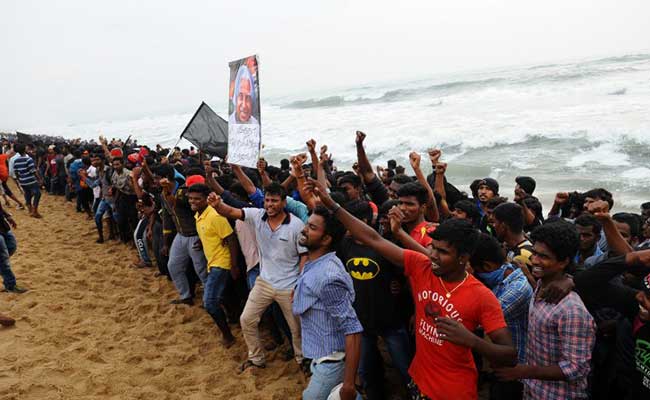 I decided not to venture to court today. By about 11 am, my Facebook and WhatsApp platforms seemed like they were on steroids. The panic button had been pressed. Messages about traffic snarls and road blocks began flying thick and fast. The head of my kids' school called to check if I, as a former TV journalist, had the latest information. I suggested that they allow parents to pick up their children, especially from kindergarten, well before the usual closing time at 2 pm. He readily obliged. My wife and I made a dash from our Alwarpet residence at about 11.30 am to the school in T. Nagar about 5 kilometres away, which on a normal day, would be a 15-minute drive. We had braced ourselves for huge traffic jams. What we encountered was a nightmare.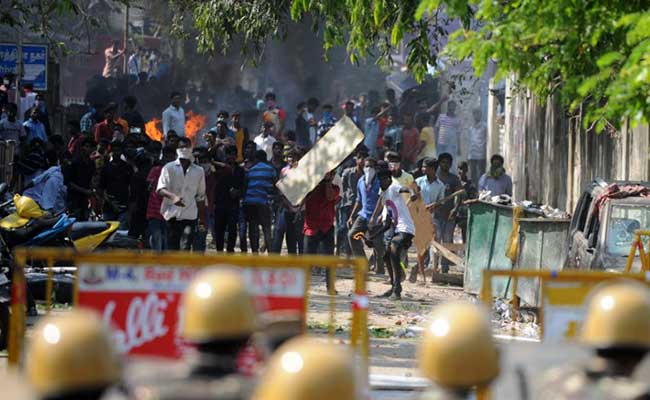 Kodambakkam High Road was closed. The traffic constable was clueless and diverted us towards Teynampet. So we took a U-turn and headed towards Anna Salai. Traffic was crawling at a speed of about 5 kilometres an hour. Tempers were running high with drivers furiously honking, perhaps as a placebo to conjure up movement that wasn't happening. The turning towards Theagaraya Salai was also blocked by angry protesters who did not look like students at all. It took close to an hour for the police to convince them to make way for a single line of vehicles to pass. As parents, we were anxious. How and when would we reach the school? We couldn't help wondering if there was a place to just park the car and walk to our destination as we could see several parents, even elderly grandparents from neighbouring schools, carrying their kids on their shoulders in the sweltering heat. During that agonising hour, my wife tried to pass on updates to the Mommies' WhatsApp Group. After driving around in circles, we reached the vicinity of the school. Getting a parking space a kilometre away from the school gate felt like an achievement. We finally made it to the classroom by about 1:45 pm. We asked our kids to go to the toilet, predicting an equally circuitous and arduous drive back home.
On the way to pick them up, we were worried about their safety in school. On the way back, we were praying that there would be no violence and advised our kids to be ready to duck in case there was stone pelting. Every junction and intersection was now blocked by protesters squatting on the roads. I tried calling senior cops, but couldn't get through as all of them were in the thick of action. My kids were hungry and initially managed with a nutri-bar that my wife had hurriedly dumped into her handbag. Fortunately, we found a pizza joint where we relaxed for about an hour. I put out a post on Facebook in a bid to crowd-source alternative routes to reach home. Within minutes, I received invitations from friends in T.Nagar to drop in to their homes. That's the true spirit of Chennai. Despite being on his toes, Mylapore DCP V. Balakrishnan, who is also a family friend, instructed his office to call me. Under these circumstances, all they could do was to offer suggestions on routes. I left my wife and kids in the pizza place and walked till I reached a group of protesters who were blocking the road towards the Gemini Circle. Here again, they did not look like students. I tried to reason with them and begged them to let my car pass as my 6-year-old daughter was not feeling well. The response was shocking- ''We will not let an ambulance also pass." I found it hard to digest. The last few days witnessed such discipline with protesters even regulating traffic and helping each other.
Like a Godsend, a filmmaker friend on Facebook, Suresh Menon, suggested that I try a particular route as he had just sneaked out from there. We jumped at the tip-off. And thank God, he was right. A little past 4 pm, we reached home. It felt like the end of an expedition. I have reported live during riots, communal clashes, police firing and the worst natural disasters in my previous avatar. But when you travel through trouble zones, like I did today, with your kids, I cannot even begin to tell you how vulnerable you would feel.
In any protest or struggle, the endgame is crucial. The Marina Movement was already a success on Sunday with the promulgation of the ordinance. It was a cause for celebration, not protraction. Moreover, the talk of a "permanent solution" is a misnomer. Any ordinance or amendment act or fresh law, even the ones placed in the hitherto "touch me not" ninth Schedule of the Constitution, post the Supreme Court verdict in the Coelho case, is subject to judicial review. The law is what the Supreme Court says it is. The ball is in the apex court. I am still unclear about the identity of the people who blocked roads today. To have made thousands of parents and school kids and officer-goers suffer in this manner, is no way to create public opinion or earn sympathy and support for a cause, however just it is. It would only be counter-productive.
I told my kids that their new shoes will have to wait. My son shot back: "It's ok, papa. At least we are back home." Their classmate's mother, who works in the IT Corridor, has been struggling to reach her little one who is wailing as she sits near the door of a family friend's home.
(Sanjay Pinto is a lawyer and former Resident Editor of NDTV in Chennai)
Disclaimer: The opinions expressed within this article are the personal opinions of the author. The facts and opinions appearing in the article do not reflect the views of NDTV and NDTV does not assume any responsibility or liability for the same.