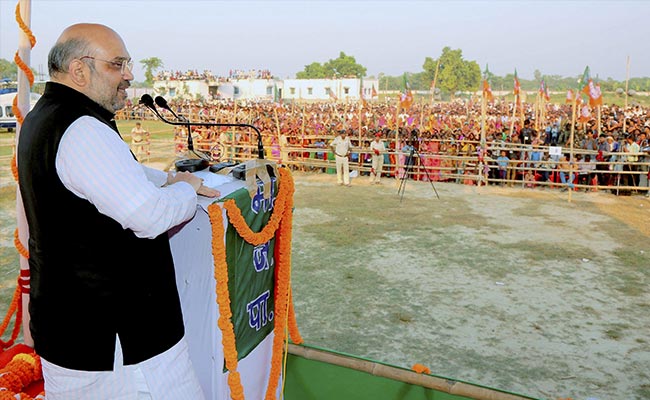 New Delhi:
The gloves are off in the election campaign for Bihar, where BJP president Amit Shah created a hugely controversial moment today when he said at a rally that
"fire crackers will be burst in Pakistan if the BJP is defeated in Bihar."
Rival parties criticised the comment as yet another attempt by the BJP to turn the election into a "majority vs minority battle". KC Tyagi of the Janata Dal United told NDTV, "The BJP had started the campaign with talk about development. But as it has started trailing it has decided to totally communalise the campaign."
Three days ago, Prime Minister Narendra Modi had accused the Nitish Kumar-Lalu Yadav-Congress alliance of,
"conspiring to take away five per cent of the quota from Dalits, Mahadalits, Backwards and Extremely Backwards to give it away to another community."
It was seen as a reference to reservation for Muslims, once promised by the Congress in neighbouring Uttar Pradesh.
With only two phases of polling now left before votes are counted in Bihar, the BJP's ideological mentor the Rashtriya Swayamsevak Sangh or RSS has deployed thousands of workers to go door to door telling voters that a defeat for the NDA in Bihar will be a "blow to Hindu self-esteem" and will compromise their safety.
The campaign, said sources, is focused on Dalits and backward castes, who benefit from affirmative action and constitute over 50 per cent of Bihar's electorate. RSS and BJP leaders say it is a move to counter attempts by the rival camp to polarise backward caste votes ever since RSS chief Mohan Bhagwat suggested a review of the reservation policy.
Nitish Kumar and Lalu Yadav have alleged that the BJP plans to scrap reservation, forcing the party's leaders to issue many denials.
The strategy to turn the Bihar election into a fight for "Hindu self-esteem" was drawn up a fortnight ago.
To emphasise its hindutva spin , the RSS begins a three-day meet from tomorrow in ranchi, the capital of Jharkand, neighbouring Bihar, where it will discuss the recently released religious census and the higher rate of rise in the country's Muslim population compared to Hindus.
"The census figures show the population of Muslims is rising while this is the first time that the population of Hindus had fallen below the 80 crore mark. The executive will pass a resolution on this expressing concern," an RSS source said.