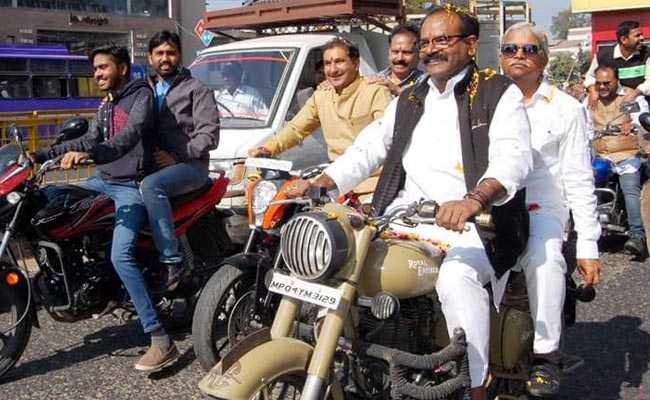 Bhopal:
Bhopal Member of Parliament Alok Sanjar paid a fine of Rs 250 and apologised for riding a motorcycle without wearing a helmet at a rally at Bhopal.
On Monday, while participating in the "Ekatm Yatra", a state-wide mission to collect metals for the installation of a 108-feet tall statue of Adi Shankaracharya at Omkareshwar, Sanjar along with Bhopal Central MLA Surendra Nath Singh was seen riding a motorbike without wearing a helmet.
The matter was brought to the notice of the traffic police after an individual sent the MP's photograph to the WhatsApp number of the traffic police.
After paying the fine, Mr Sanjar apologised in a tweet and promised not to repeat the act in future.
"During Ekatm Yatra, I rode a motorcycle without wearing helmets on the request of party workers. I am sorry, will keep this in mind in future," Mr Sanjar tweeted.
Talking to news agency PTI, Mr Sanjar said: "I had received a call from traffic police officer Mahendra Jain (Additional Superintendent of Police) that someone had complained. Without delay, I went to the traffic police office and paid a fine yesterday."
"I promised myself that I will never ride a bike without a helmet and also never sit in a car without wearing a seat belt. It is my duty to follow traffic rules," he said.
He said that he rode the motorcycle because the jeep carrying him and other party workers had broken down. "In a hurry, I rode it without wearing a helmet," he said.