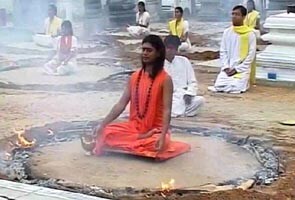 Bangalore:
A former key aide of Nityananda has alleged the self-styled godman was threatening witnesses, including him, and victims of his "sleaze activities".
"He has already threatened me before. He makes his devotees file cases against me. Now he is harassing witnesses and victims by filing complaints against them," Lenin Karuppan, who released purported videos of Nityananda in a compromising position with an actress, told reporters in Bangalore.
Nityananda, against whom CID have recently filed a chargesheet for crimes such as rape and unnatural sex, was also "intimidating probable witnesses and victims by threatening to file cases against them", Lenin claimed.
Lenin, who had deposed against Nityananda before the police, alleged that many ex-devotees had realised the "truth about Nityananda and left him after the scandal. Many have thanked me and personally supported me, but because of Nityananda's continuing threats and pressure they are afraid to come out openly and testify".
Lenin accused the self-styled godman of spreading "false propaganda and misinformation" that he was being funded by some Christian groups and television channels to do sting operations.
He claimed he had an audio recording of Nityananda "begging him to return to his ashram and not to report anything to the authorities".
Lenin also charged Nityananda with collecting huge tax free money for his non-profit foundation (Dyanapeetam) and investing it in hedge funds and companies.
The former disciple said he was not exposing Nityananda for any "personal gain" but only to save others from being "trapped in the dangerous cult".
Nityananda was arrested from Himachal Pradesh after TV channels telecast visuals showing him in a compromising position with an actress.