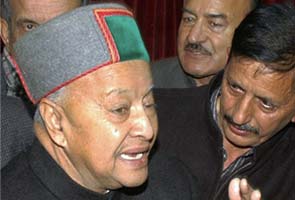 New Delhi:
Former Union Minister Virbhadra Singh, who led the Congress to victory in the Himachal Pradesh elections, will be the state's new chief minister, the party decided on Saturday.
The chief minister's post marks a comeback for 78-year-old Singh, who had to resign from the Union Cabinet in June this year over allegations of corruption and led a spirited campaign to oust the faction-ridden Bharatiya Janata Party from power in Himachal Pradesh. The Congress won 36 of the 68 seats.
Mr Singh was named leader of the Congress Legislature Party (CLP) by Congress General Secretary Janardan Dwivedi after his appointment was approved by party chief Sonia Gandhi. Mr Dwivedi, who was the central observer, made the announcement after a four-hour-long meeting of the CLP.
Earlier, the newly elected Congress legislators in Himachal Pradesh adopted a one-line resolution, authorising party chief Sonia Gandhi to announce the next chief minister. The resolution was moved by Mr Singh, the Congress's state chief, and seconded by Vidya Stokes, who won the elections for the eighth time.
Mr Singh, often referred to as the Raja of Rampur because his ancestors were royalty, has served five terms as chief minister of Himachal Pradesh between 1983 and 2007. In his five-decade political career, he has been an MLA seven times and a parliamentarian five times.
Just five months before the elections in his state, Mr Singh resigned as Union minister over corruption allegations. Then, in October this year, a scandal engulfed him after documents accessed by income tax officials listed "VBS" as the recipient of what appeared to be a large kickback from a steel company. The papers dated back to 2009-10, when Mr Singh was Steel Minister. Mr Singh stridently denied any link to the company or knowledge of the alleged bribe.
Then, in a series of new economic reforms, the Union government introduced a limit on how much subsidised cooking gas families could access every year. Many within the Congress publicly acknowledged that the decision could cost the party heavily in the elections in Himachal Pradesh. During the campaign there, BJP leader Narendra Modi held up an induction heater urging voters to remember that the government had made an "anti-people" move.
The Congress too battled major infighting in Himachal. Mr Singh, perceived as a man banished from Delhi over corruption allegations, was not welcomed at party meetings. But soon after he was made the state party chief, he decided to get to work, campaigning extensively and picking candidates carefully.
Even before the final results were declared, incumbent chief minister P K Dhumal conceded defeat.
(With inputs from PTI)