New Delhi:
Top BJP leaders are reportedly upset over a campaign advertisement published in newspapers yesterday which mocked Aam Aadmi Party chief Arvind Kejriwal for taking the support of the Congress to form government after the last election in December, 2013.

BJP sources have said that the party has sent out clear instructions to its units to focus only on positive campaigning. The instructions were sent out after senior BJP leader Arun Jaitley and Union minister Dharmendra Pradhan, who is among the central ministers assigned to micromanage Delhi elections, changed the tone of party's ad campaign, sources said.

At the review meeting on Friday, the two leaders approved the party's campaign ad which has been published in today's leading newspapers. It has photos of Prime Minister Narendra Modi and BJP's chief ministerial candidate Kiran Bedi and focuses on development and good governance.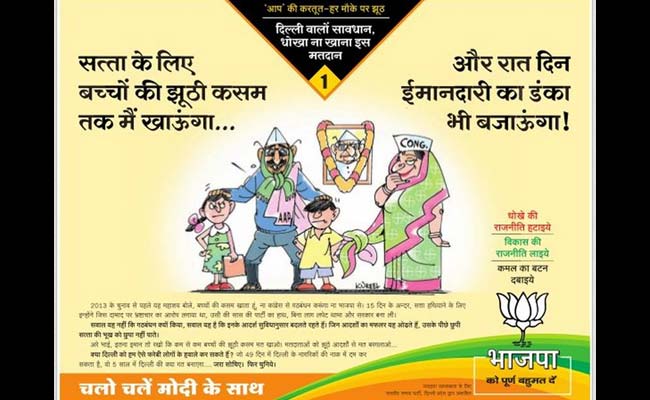 (The ad published yesterday was slammed by AAP chief Arvind Kejriwal)
The ad published yesterday was slammed by AAP chief Arvind Kejriwal who tweeted to say that BJP should apologise for "killing Anna".

Mocking Mr Kejriwal for taking Congress's support, the ad seems to imply that the AAP chief went against the principles of his former mentor Anna Hazare, using a so called garlanded portrait of the Gandhian.


"Nathuram Godse killed Gandhiji on this day in 1948. BJP has killed Anna in its ad today. Shudn't BJP apologise?" Arvind Kejriwal said in the tweet yesterday.
In the last election, Anna Hazare, who had been openly disapproving of Mr Kejriwal's entry into politics, had banned AAP from using his name or images in their campaign.
Delhi votes for a new government on February 7. The results will be declared on February 10.