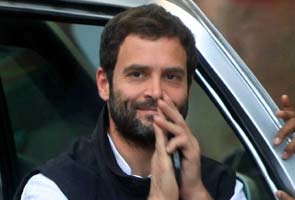 Gwalior:
It is the Congress's turn to bring out its big guns in election-bound Madhya Pradesh and party number 2 Rahul Gandhi will lead the attack against the Shivraj Singh Chouhan government at two rallies today, first in Shahdol and then in Gwalior.
The mega rally at Gwalior is drawing much attention amid speculation that young Royal Jyotiraditya Scindia could be the Congress' pick for chief minister in the state should the party oust the BJP in the elections to be held on November 25. The party claims that about two lakh supporters are expected to attend the Gwalior rally.
The Congress has no dearth of frontline leaders from Madhya Pradesh. Also flanking Mr Gandhi today will be state stalwarts like Kamalnath, Ajay Singh and Digvijaya Singh, who was chief minister till 2003 and had banished himself from active politics for a decade when the BJP wrested Madhya Pradesh from him 10 years ago.
The BJP has not looked back since and chief minister Shivraj Singh Chouhan is hoping to get a third term as chief minister. The stampede at a famous temple in Datia district this weekend, which killed 115 people, has, however, put the chief minister on the backfoot and handed big ammunition to the Congress to attack him with.
The state government has been severely criticised for poor preparations and handling of the massive tragedy and the Congress has demanded Mr Chouhan's resignation amid grave allegations against the state police of not just negligence, but looting, corruption and high-handedness.
Mr Gandhi will also visit Datia today to meet survivors of the stampede.