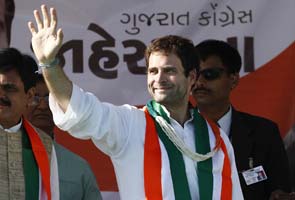 Bhuj:
In a veiled attack on Chief Minister Narendra Modi, Congress General Secretary Rahul Gandhi today accused him of practising "politics of anger" and said it was time people switch to the power of "love", preached by the Mahatma, to ensure the progress of Gujarat.
"Common man dreams are not looked at...it is just one man's dream that prevails in the state and who is doing politics of anger," Mr Gandhi said without naming Mr Modi.
"What's the problem here....this one man who claims to run Gujarat and having changed the entire state is full of anger....and with anger the state cannot progress ahead," Mr Gandhi said, while addressing a rally in Bhuj ahead of the second phase of polling on December 17.
The Amethi MP said it was "love of the people" that could help the state progress and not anger.
"This state can only progress ahead with love....a path shown by Mahatma Gandhiji...this is what I wanted to tell you..," Mr Gandhi said asking people to vote for a change.
"Two out of four people who mattered the most to me in my life were snatched away by terrorists...When my grandmother and father died, I had a lot of angst in me...," he said.
"What anger does... it makes a person blind...I was like a blind man...but when I kept the anger aside I started seeing things clearly...I don't have one bit of anger today in me.." he asserted comparing himself with the BJP strongman.
"Your Chief Minister who talks about anger is wrong...you are full of love and there should be a government which has love," Mr Gandhi said.
"You have your own dreams and it is you who run this state, the historical past of here has been of love...which is there in your hearts that you have expressed and have shown also," he said in an attempt to strike a chord with the people in Bhuj.
Reiterating that only one man's voice was heard in Gujarat, he said, "He (who) says that if Gujarat has marched ahead it is only one man who has taken it forward."
"The farmers, labourer of the state have not helped the state progress ahead...the women sitting here have done nothing, the children and youths studying...shall do nothing in future..." Mr Gandhi said, pointing that people in state were virtually made to feel they had no role in the state's progress.
"It is only one man who does whatever happens in Gujarat," he said, taking a dig at Mr Modi's alleged autocratic style of functioning.
"You are being told that before him there was no development in Gujarat...The development started when he joined in," he said.
"This is excellent marketing," Mr Gandhi said, charging Mr Modi of being a suave 'marketeer'.
"Have you got water?...Your land has been snatched and given away to big industrialists...for what amount? Who suffered losses? What happened to fishermen folks...there are only big speeches that Gujarat has changed...," he said.
He lauded Congress for bringing in Right to Information Act, which empowered common man to raise voice against corruption.
Mr Gandhi also said that nearly 14,000 Right to Information (RTI) queries were pending in Gujarat. The Lokayukta could not be appointed in the state as one man did not want it.
Exhorting people to bring about a change, he said, "form a government of youths...women...fishermen and once again make this state progress faster."