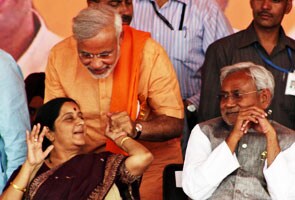 Patna:
Even as congratulations poured in for Gujarat chief minister Narendra Modi for winning three successive Assembly polls in the state, his Bihar counterpart Nitish Kumar is keeping a stoic silence, which has set the tongues wagging.
When mediapersons sought reaction from Mr Kumar this morning on the historic victory of MR Modi, he kept mum and went ahead to attend an official function.
The Bihar chief minister had not entertained similar question last evening too.
In reply to the query of the reporters on the Mr Modi's victory, he only said, "I'll call you fellows separately for this."
The stoic silence maintained by Mr Kumar, who is a senior leader of BJP's NDA ally JD(U), has triggered gossips in the political circle. BJP leaders in the state have disapproved Mr Kumar's stance. When asked about the silence of Mr Kumar on Mr Modi's victory, state BJP President CP Thakur wondered as to why he did not make a customary gesture which was common in public life.
"It is for Mr Kumar to explain as to why he did not congratulate Mr Modi...congratulating somebody on victory is a normal practice in public life," Mr Thakur, a former union minister, told reporters in Patna.
Mr Thakur has on many occasions favoured Mr Modi to be made BJP's PM candidate for 2014 general elections.
Nitish Kumar's aversion for Mr Modi over 2002 communal riots in Gujarat is well known. Recently, in an interview to a national daily, Mr Kumar had emphatically said that NDA's prime ministerial choice should have secular credential which was construed as his opposition to the candidature of Mr Modi.