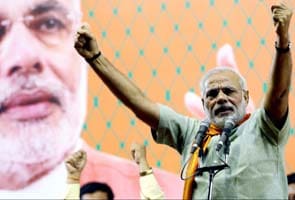 Bangalore:
Narendra Modi came, he saw - and the BJP definitely hopes he conquered. the Gujarat Chief Minister was a late entrant to the Karnataka campaign scene, but on Sunday evening he used his oratorical skills to the best effect. With less than a week to go until voting, some say he did finally come to the aid of his party.
Addressing a rally in south Bangalore, Mr Modi asked the crowds that "If a daughter of yours is unhappy in her husband's house, will you marry another daughter in the same family? This metaphor was used for urging the people of Karnataka not to vote for the Congress in the state having seen its performance at the Centre.
Expectedly, the Gujarat Chief Minister, in his hour-long speech, attacked the Congress, saying "No son disobeys his mother but in Congress, the mother is continuously saying 'Power is Poison' and the son is campaigning in Karnataka saying 'Give us power.' Whom do we believe? ... To complete what the mother said I would like to say, Congress' power is the poison that has destroyed the nation. They are the ones who have spread the poison of communalism."
But while he may have been preaching to the converted at a college ground - he did get a very warm response. The public chanted Mr Modi's name as other speakers tried to talk ahead of him - and Mr Modi himself had to ask the crowd to listen to the others.
His admirers in the crowd told NDTV that they wished Mr Modi had started campaigning earlier so that he could have had a bigger effect for the BJP.
"He should have come earlier... wish he had done his 3D campaign here too," said people in the crowd.
There were doubts whether Mr Modi would come to the aid of his party in Karnataka. It was thought his possible prime ministerial aspirations would mean he would not want to be involved with what could be a lost cause for the BJP.
The BJP faced numerous allegations of corruption and crippling internal dissidence during its 5-year term. And a confident Congress hopes the good results in the recently held urban local body elections is an indication of the direction in which the wind is blowing.
Mr Modi has proved to be a successful campaigner in his home state, but it remains to be seen if his appeal will hold so far away from home and whether Karnataka will help or harm his chances to be his party's choice for prime minister.
Mr Modi will campaign in Belgaum in north Karnataka on May 2.