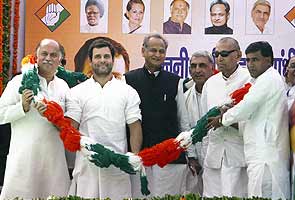 Alwar, Rajasthan:
Rahul Gandhi, who is in the midst of a hectic campaigning schedule, said today that his mother gave him some negative feedback on a recent speech. "After I spoke about her being unwell, she called me and said I should speak about myself and not her at my rallies," the vice-president of the Congress said.
His mother, Sonia, is the party chief.
Earlier this month, at a rally in Madhya Pradesh, Mr Gandhi said that she was crushed about being hospitalised on the day that parliament voted for the landmark scheme that guarantees cheap food to nearly 70% of India's population. Mrs Gandhi had championed the reform, widely expected to deliver as a major vote-getter in the coming state and national elections.
"She was ill but she was adamant that she wanted to vote in Parliament...I dragged her to hospital. She was unable to breathe when we reached there and she had tears in her eyes. She said 'I fought for the bill and wanted to vote on it...but I couldn't' ", he said. (
Read
)
Mrs Gandhi may have urged her son to recuse her from appearances in his speeches, but he has been clutching at family anecdotes at his rallies in an attempt to make an emotional hook-up with his audiences.
At one speech in Punjab, he spoke of being called by his worried mother to look out of the window at the sky before his father, Rajiv, then a pilot, left for work. Rajiv Gandhi, who was Prime Minister between 1984 and 1989, was assassinated in 1991.
Today, at a speech in Rajasthan, he spoke of his grandmother, Indira Gandhi, who was assassinated in 1984 by her Sikh bodyguards while she was prime minister. Those guards taught him to play badminton, he reminisced. He also said his father ordered him often to eat his spinach; and that he would cheat by making his grandmother eat it.