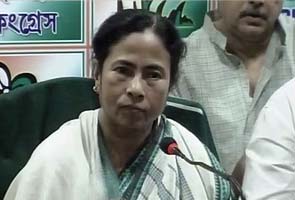 Kolkata:
Trinamool Congress chief Mamata Banerjee, on Sunday, launched her party's campaign for the Assembly poll by marching in the city's southern outskirts as part of her three-day padayatra.
Thousands of people lined up the streets to catch a glimpse of the leader who was accompanied by party supporters holding cut-outs of her and posters promising to build a new Bengal.
Clad in a green-bordered white sari, Mamata, Railway Minister, walked the five-km route from Thakurpukur to Behala canvassing support for her party as a huge crowd fell over each other to get close to her.
She was accompanied by deputy leader of the Opposition in the state Assembly Partha Chatterjee and city mayor Sovan Chatterjee, both of them, candidates for Behala East and Behala West constituencies that fall under her South Kolkata Lok Sabha seat.
This was the first of a three-day padayatra she planned to undertake in various parts of the city over the next two days.
Trinamool leader Partha Chatterjee claimed the march was a "mother of all processions" which indicated people's "mood for change".