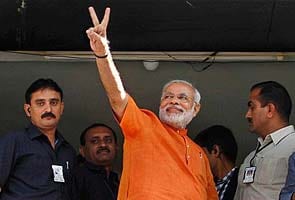 Ahmedabad:
The Bharatiya Janata Party (BJP) is set to retain power in Gujarat, Chief Minister Narendra Modi's third victory in a row, with its candidates leading in more than 110 of the 182 seats.
As they counted the millions of votes cast in the two-phase assembly contest, Election Commission officials said the BJP had forged ahead in at least 116 constituencies - just one short of the 117 it won in 2007.
The Congress, which had been desperate to oust Mr Modi who has ruled Gujarat since 2001, appeared to be on the winning track in 62 places.
Former BJP chief minister Keshubhai Patel's newly set up Gujarat Parivartan Party (GPP) was in the lead in two places in Saurashtra region.
"We are confident of forming the government again," BJP spokesperson Ravishankar Prasad said in Delhi. His party colleagues in Gujarat echoed the view.
Mr Modi confidant Amit Shah asserted that the BJP was sure to bag a two-thirds majority in the 182-member Gujarat assembly.
The GPP said Mr Modi could have been ousted if the Congress had joined hands with it.
GPP leader Gordhan Zadaphia said a GPP-Congress alliance could have ended the Modi regime.
Ahead of the vote count, Mr Modi sounded supremely confident.
"No need of looking behind, FORWARD! We want infinite energy, infinite courage, infinite patience...," he said.
Gujarat Congress leader Ameeben Yagnik admitted: "We will have to work harder in Gujarat."
Exit polls had predicted a massive win for the BJP in Gujarat.
Political pundits have said that a widely predicted MR Modi win could have him playing a larger role in national politics.